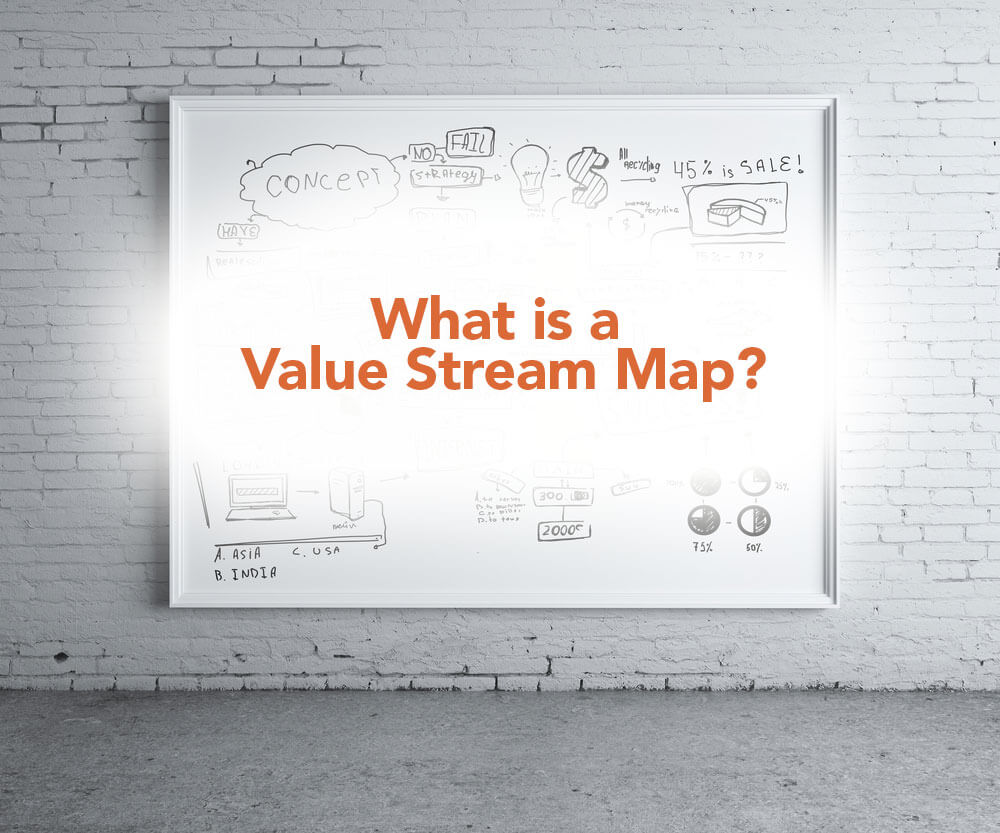 What Is a Value Stream Map?
To master Continuous Improvement (CI) in your organization, you must implement proven methods. Value stream mapping is a valuable method you learn as a student of our Lean Manufacturing master's degree program. Once mastered, you will be equipped with the knowledge you need to optimize the processes at your organization.
What is a value stream map?
At the basic level, a value stream map (VSM) is a method for uncovering waste. It is used to visually present the flow of information and materials. (You can think of it as a blueprint for Lean transformations.) Although associated primarily with manufacturing, value stream mapping is also used in logistics, healthcare, retail – any industry with multistep processes.
Sample Value Stream Map
Photo: BMA, Inc.
Six key ingredients of proper value stream mapping
According to William C. Thorsen, staff project planner in the Worldwide Facilities Group of General Motors Corporation, there are six key ingredients in value stream mapping:
The customer (and the customer's requirements)
Main process steps (in order, including undocumented work)
Process metrics (process time, wait time, first-time quality)
Supplier with material flows (using a value stream walk-through)
Information and physical flows (how each process prioritizes work)
Overall performance of the value stream (e.g., total lead time)
Four passes for creating an effective Value Stream Map
There are four passes for creating and utilizing an effective VSM. Summarized by Industry Week, they are:
Understand the current state: This involves training your cross-functional team on the VSM process. You must walk through your entire manufacturing operation and take note of how the process flows. At the same time, you need to identify the communication points and how information is transmitted to others during the processes. 
Analyze and reflect: This is where your team reflects on the map created from the first pass and verifies that all pertinent information is included. At this step, you also begin to identify performance barriers in the system and begin to develop cost-effective solutions for each problem to reduce inefficiencies. You can iterate on your current state VSM at this point to visually understand what a future VSM would look like after implementing these procedural changes.
Improve: This is where you begin to implement the changes developed in the second pass. It is crucial to make sure all personnel are trained on these new procedures so that changes can be implemented effectively. You can systematically add changes based on priority so that you can identify the benefits of each change, rather than making all the changes at once.
Sustain: This pass is important so that all of the changes don't go out the window. You must continue on this path with a new VSM instead of reverting to old habits.
Basic Value Stream Map symbols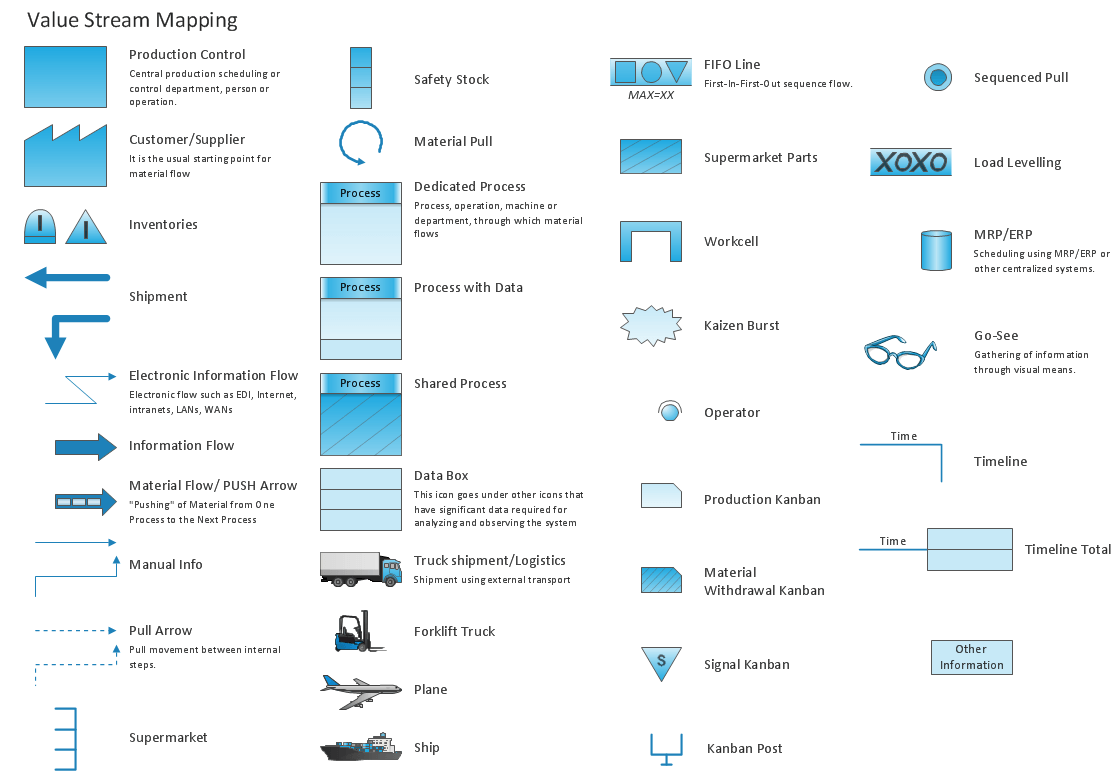 Photo: Concept Draw
As you can see, value stream mapping is a valuable method for uncovering waste in any industry with multistep processes.
Kettering Online's Innovative Master's Degree in Lean Manufacturing
The only program of its kind in the United States, Kettering University's online Lean Manufacturing master's degree program teaches the modern manufacturing process knowledge and Lean Six Sigma skills needed to improve quality output, streamline processes and reduce waste
The lean program at KUO truly enhances your skill set by learning to think lean. Lean thinking is a mindset and developing them here at KUO will promote you to apply it and make some strides in your career. The resources and learning materials have been revised and updated to include the latest research and methods. The methodologies learned will help you to bring about better efficiencies to your processes. The faculty are all well versed and continue to apply lean methodologies at their work and life to stay on a path of continuous improvement.