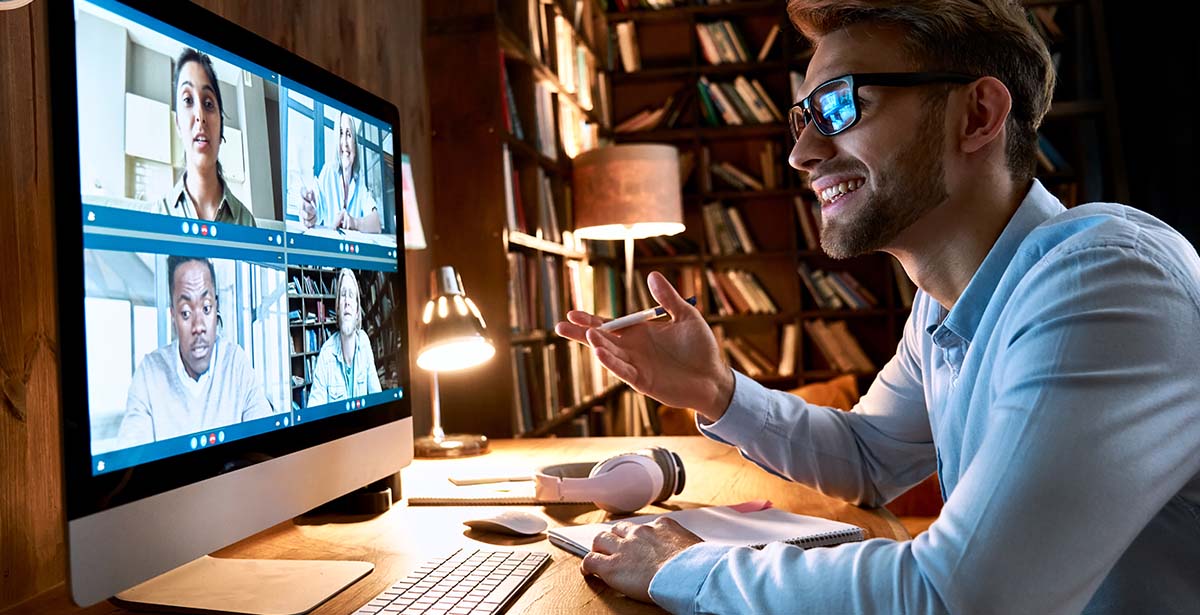 Designing Effective Virtual Presentations
With much of the working world still working from home, it is important to be able to create compelling, professional presentations that bring attention to your topics.  
When designing virtual presentations, it can be tempting to boost your "wow factor" by inserting too many transitions and sounds or by spending too much time finding the perfect virtual background.
Instead, look to engage your audience with skillful delivery and a visual presentation created to enhance understanding of your main message and key points.
Follow these tips to design and deliver effective virtual presentations.
Practice & Partner
Build confidence by rehearsing your delivery and practicing with the technology tools you intend to use during your presentation.
For example, if you are sharing a PowerPoint in a Zoom meeting, you want to ensure you are comfortable with both PowerPoint as well as how to share your content on Zoom and ensure everyone hears any sound if it is part of the presentation.
Schedule time to practice delivering the presentation. Try practicing with a trusted colleague who can provide honest feedback.
Be sure to start the meeting early, where it is a face-to-face meeting or some virtual platform to ensure all your presentation materials are working smoothly, as well as your audio and webcam.
It may be helpful to have a co-presenter manage the meeting technology so you can focus solely on content delivery and audience feedback.
In this scenario, your partner shares their screen, advances slides, and manages the overall presentation. A co-presenter can also monitor the chat area for questions and comments.
Content & Delivery
Whether your presentation is in-person or virtual, you need to start by planning. Spend at least 50% of your time planning, including:
Identifying your audience
Defining your key points
Determining the best format available for delivering key points to your audience
Plan your content and presentation, just as you would for a face-to-face presentation.
Have a concise introduction, organize your key points with evidence, and end with a conclusion reminding participants of the key points.
Use a script to stay on track and practice a read-through before the presentation.
Engage your audience with frequent questions and check-ins. In virtual meetings, you can ask participants to answer a question in the chat area or participate in a live poll.
These can be engaging tools for participants because they see the results in real-time.
Visual Content
As you prepare your presentation, remember that tools such as slides, whiteboards, and videos should not reiterate every word you are saying on screen.
Instead, use these tools to highlight your key points.
To create a visually engaging presentation, follow these best practices:
Ensure all of the content on the screen directly relates to the key points
Add images to demonstrate your key points and provide instant context on the topic to your audience
Look for ways to replace bullet points with images that tell a story about the data
Use animations and arrows to emphasize a point
Do not read from the screen during your presentation
Use text to highlight relevant information
Keep It Simple
Do not copy and paste text from a document into your slides or presentation tool. Avoid text-heavy slides as large blocks of text force the audience to read the words on the screen instead of paying attention to you.
Alternatively, use the screen to enhance your key points by using images, readable text and fonts, and including lots of white space.
Image Use
There are a few factors to consider when deciding which images or visuals to use to boost your presentations.
First, think about which images would tell a story to your audience while at the same time, providing context when they look at the screen.
Avoid putting every word and data point on the screen. Instead, stick to a few key factors that help your audience focus on key points.
Keep these factors in mind when designing images for presentations:
Design images that provide instant context to your audience
Consider images to clarify a key point or to show an example
Use images that emphasize what you are saying
Consider images that evoke an emotion, engage audiences, or make a point memorable
Create images that break down complex information or data into simple forms that are easy to understand at a glance
If not using original images, make sure you have permission to use someone else's intellectual property
Use Transitions with Purpose
It can be fun and creative to start working with the transitions function on tools such as PowerPoint, Prezi, or Keynote.
Remember, however, transitions can be distracting and can interrupt key points instead of emphasizing them.
It may be best to save animations for recorded presentations.
Be sure to:
Use transitions for a specific purpose such as revealing the stages of a process
Avoid animating every slide
Avoid using different types of animations; choose one or two to emphasize your key points
Make Your Screen Reader-Friendly
The Americans with Disabilities Act (ADA) compliance optimizes accessibility for those with disabilities. It not only helps those who may have hearing or vision impairment; compliance can help your entire audience see and hear presentations.
Here are a few basic rules to follow to make your presentation ADA compliant.
Fonts: Use large font sizes, at least 24 pt
Keep fonts consistent throughout
Use sans serif fonts for easier readability. Consider Arial, Gills Sans, or Calibri.  Avoid Times New Roman
Use dark text on a light background
Limit text to no more than 6 lines per slide and no more than 6 words per line
Include images, diagrams, and illustrations to display concepts, 1 per slide
Add alt tags to images
Use information legally and cite content (including images) wherever necessary
Presentations can be a very important communications tool that can enhance your message and add some interest to your subject matter. Taking the time to consider many of these suggestions can support your confidence and abilities in the development of high-quality impactful presentations.
Do Your Best at Kettering
Kettering University's new online programs can provide you with the tools and techniques you need to bolster your presentation and professional communication skillset.
Talk to an Enrollment Advisor today to learn more about Kettering University Online master's degree and certificate programs, including a Modern Business Practices certificate and a newly launched Master of Science in Data Science degree.
KUO's Innovative MBA
An MBA can make the difference in gaining the skills and knowledge to understand how to adjust and transform business practices, regardless of the circumstances in the world From managerial accounting to international business, enterprise information system models to managing people and organizations, Kettering University's award-winning MBA (ranked #1 in Michigan according to MBA Central) is designed to expose you to the most current academic research and innovative approaches to business. The design of the courses allows you to find solutions to your real-world problems with the Learn Today-Use Tomorrow approach to learning.