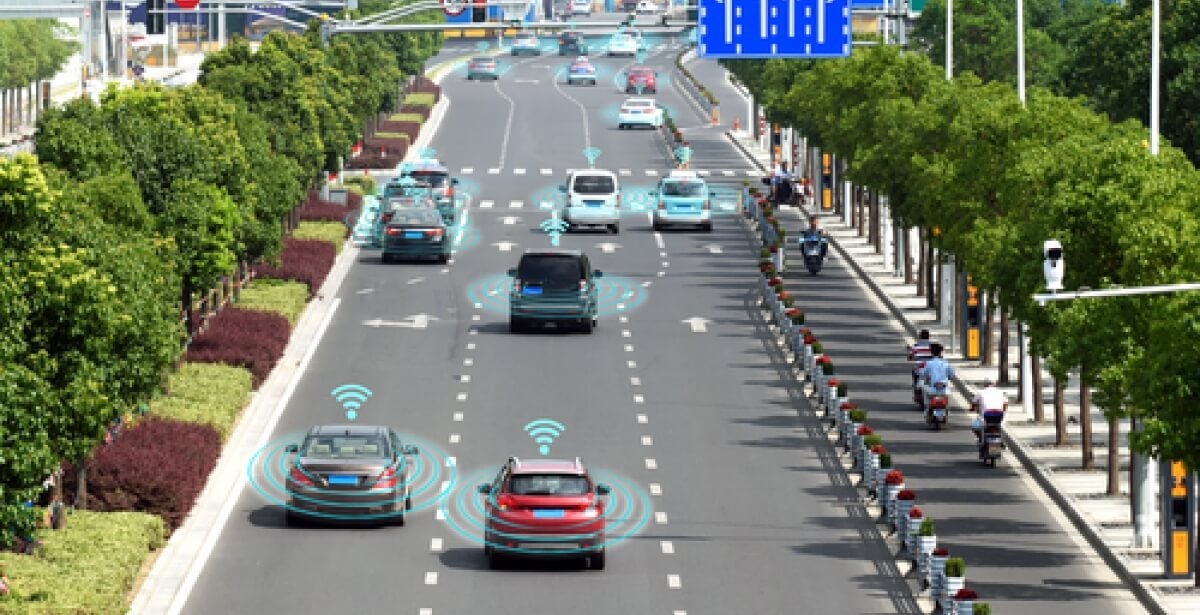 The Future of Autonomous Vehicles and Kettering University
"I think [autonomous driving is] just going to become normal. Like an elevator. They used to have elevator operators, and then we developed some simple circuitry to have elevators just come to the floor that you're at; you just press the button." — Elon Musk
Everyone has witnessed life changing technology. Our grandparents and great grandparents saw transportation change via flight and the automobile. Our parents saw communication and entertainment evolve from the stage to radio and television. And younger generations have seen computerization go from the desktop to the laptop to handheld devices.
The continued evolution of technology is a given in life. And autonomous vehicles could be the next evolutionary step when it comes to transportation.  
Kettering University and autonomous vehicles
Kettering University is at the forefront of both the theory and application of self-driving vehicles. The university's Mobility Research Center is the only one of its kind on a college campus in the country. "The outdoor lab space and proving ground [is] used to enhance research and development of autonomous vehicles, vehicle safety standards, hybrid and electric vehicle technologies, and many other uses," said the Kettering University News in 2015.
Kettering University is also one of eight universities selected to compete in the AutoDrive Challenge. The AutoDrive Challenge, sponsored by the Society of Automotive Engineers and General Motors, is a newly established three-year autonomous vehicle competition challenging students to develop and demonstrate a fully autonomous driving passenger vehicle. Faculty in mechanical engineering, electrical engineering, computer engineering and computer science collaboratively developed the goals, objectives and opportunities for current and future Kettering students to participate in the AutoDrive Challenge.
Kettering University Online offers master's degree programs in electrical and computer engineering with an advanced mobility focus,  engineering management, operations management, business administration, and lean manufacturing for those interested in preparing for this innovation and taking advantage of the myriad career opportunities available.
Through its courses, research center and participation in the AutoDrive challenge, Kettering University is putting both Flint and Michigan in the automotive spotlight once again.
Autonomous vehicle technology
The relationship between cars and technology has been changing the way we drive for years. Think of crash-warning systems, in-dash cameras for parking, cruise control, or the ability of cars to self-park. With fully autonomous vehicles, the technology further evolves, affecting every aspect of driving. Sensors, cameras, software algorithms that dictate the car's every action, and the ability for connections with other autonomous vehicles, as well as software security protections, are being researched and tested throughout the country every day.
Impact of self-driven cars
Autonomous cars will undoubtedly change the way we use transportation, and the benefits are potentially far-reaching:
Efficient fuel consumption
Safer roads
Reduced congestion
Efficient traffic flow
Mobility for those who are injured and disabled
Scholars, business executives, ethicists, lawyers, engineers and politicians are facing challenges. They are grappling over the policies, plans and regulations that will be needed to define and regulate a new modern era of transportation. There is no doubt the impact of self-driven cars will be expansive. Some of the impact will be measured quickly, such as traffic conditions, accidents, and technology glitches. Other impacts, such as the overall economic impact and the impact of job gain and job loss, will likely take some time to come into focus.
The players and adoption in the US
At the forefront of driverless vehicles are companies that are racing to have the technology ready by 2021. Toyota is planning on having a driverless car by 2020, as is Google. Tesla is aiming for 2018, and BMW will introduce its self-driving cars in China in 2021, according to Business Insider. "Ford, for instance, recently tripled its investment in its autonomous vehicle fleet and is testing 30 autonomous Ford Fusion hybrids in California, Michigan and Arizona," according to an article by Wired Brand Lab in 2016.
Here is a snapshot of developments and initiatives:
GM is scheduled to launch autonomous cars in big cities sometime in 2019.
Highway planners in Wisconsin are considering the addition of driverless vehicle lanes on I-94 to serve the Foxconn factory in Racine County.
Some 33 states have introduced autonomous vehicle legislation.
Las Vegas tested an autonomous bus along a three-block route.
Google's Waymo began testing self-driving cars on public roads in the city of Chandler this past August.
Uber began an autonomous vehicle pilot program in Pittsburgh.
Career opportunities and autonomous vehicle technology
Those studying computer science, robotics and engineering who have an interest in autonomous vehicles should have a job market rife with opportunity. A quick snapshot of potential engineer positions related to the technology:
Functional safety engineers
Robotics software engineers
Autonomous vehicle platform systems engineers
Autonomous vehicle sensor software engineers
Research and development engineers
Aside from the jobs available in designing and manufacturing autonomous vehicles, there will be jobs in the surrounding industries. Companies will need experts for storing, organizing and analyzing data generated from the vehicles, mechanics who are trained to repair autonomous vehicles, "and then there's the TBD, the jobs that haven't even been conceived yet," writes Aarian Marshall in Wired. "Based on the data from Indeed alone: there are 229 entities (companies, startups, etc...) in the US that have job postings for self-driving cars, or related products," adds Jean-Marc Beaujour, writing for Medium.
Successfully launching a new era of transportation takes expertise and leadership from a variety of disciplines.
Kettering University Online offers a Master of Science in Electrical and Computer Engineering for students wanting the technical expertise to play an integral role in the development of electric and autonomous vehicles, MBA to those seeking to hone their business acumen, a Master of Science in Engineering Management for those interested in applying their engineering knowledge in a project management context, a Master of Science in Operations Management for those interested in optimizing performance and workflow processes, and a Master of Science in Lean Manufacturing for those wanting to improve overall quality output, streamline processes, and reduce waste. The world of autonomous vehicles is coming, and a degree from Kettering University Online is your first step to success in this new industry.
Sources
CNBC (2017, 30 November). GM to launch autonomous cars in big cities sometime in 2019. Retrieved from https://www.cnbc.com/2017/11/30/gm-to-launch-autonomous-cars-in-big-citi...
Shah, S. (2017, November 14). A US freeway may get self-driving car lanes thanks to Foxconn. Retrieved from https://www.engadget.com/2017/11/14/foxconn-driverless-cars-wisconsin-hi...
National Conference of State Legislatures (2017, October 23). Autonomous vehicles: Self-driving vehicles enacted legislation. Retrieved from http://www.ncsl.org/research/transportation/autonomous-vehicles-self-dri...
Covello, L (2017, January 24). U.S. cities where you can find driverless cars or buses right now. Retrieved from http://fortune.com/2017/01/24/driverless-car-cities/
Muoio, D. (2016, October 17). 19 companies racing to put self-driving cars on the road by 2021. Retrieved from http://www.businessinsider.com/companies-making-driverless-cars-by-2020-...
Marshall, A. (2017, June 3). Robocars could add $7 trillion to the global economy. Retrieved from https://www.wired.com/2017/06/impact-of-autonomous-vehicles/
Beaujour, JM. (2017, May 17). An analysis of the job market in self-driving cars (US only). Retrieved from https://medium.com/@jmlbeaujour/an-analysis-of-the-self-driving-car-job-...
Wired Brand Lab (2016). A brief history of autonomous vehicle technology. Retrieved from https://www.wired.com/brandlab/2016/03/a-brief-history-of-autonomous-veh...
Sorokanich, B. (2015, March 18). Everything Musk said yesterday about self-driving cars. Retrieved from http://www.roadandtrack.com/new-cars/car-technology/news/a25316/everythi...
Kettering University News (2015). Kettering University GM Mobility Research Center will position Flint and Michigan at the forefront of transportation and mobility development and research. Retrieved from https://news.kettering.edu/news/kettering-university-gm-mobility-researc...