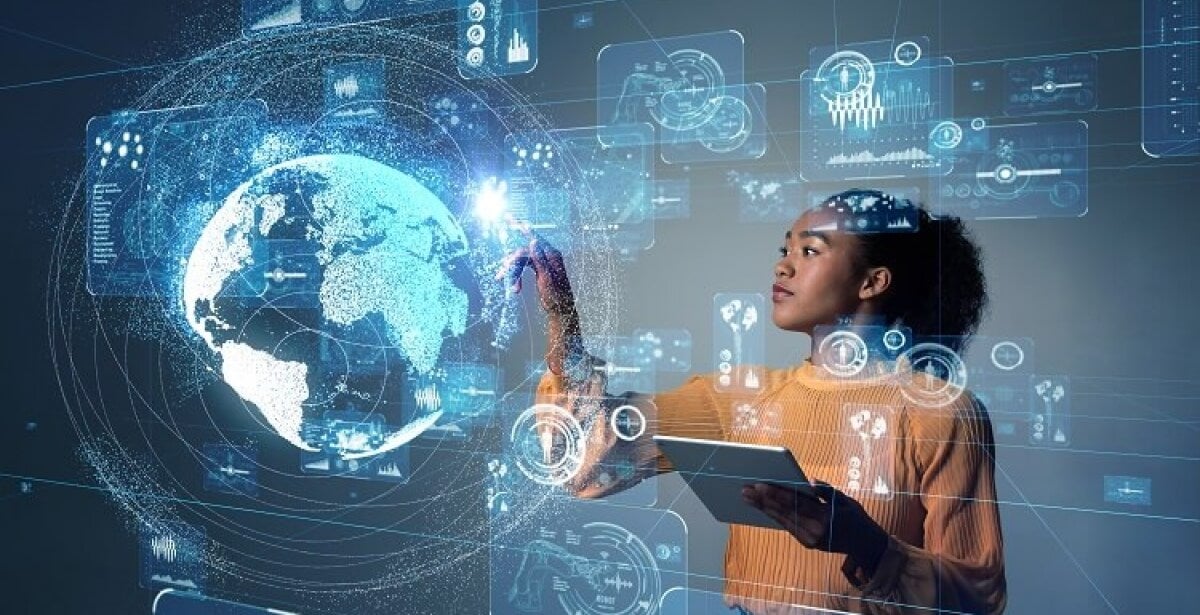 Artificial Intelligence and What It Means for Your Life: An interview with Dr. Juan Diego Gomez
No doubt, you have encountered some form of artificial intelligence (AI) either in your professional or personal life and chances are it's both! If you received a product recommendation from Amazon, asked Siri a question, or used a virtual travel-booking agent, you are using applications powered by artificial intelligence.
Definition and Clarity of Terms
In computer science, artificial intelligence (AI) refers to any human-like intelligence exhibited by a computer, robot, or other machines. Artificial intelligence is the ability of computers and machines to mimic the capabilities of the human mind through:
Perceiving their environment
Learning from examples and experience
Recognizing objects
Understanding and responding to language
Making decisions
Solving problems
There are widespread applications for AI in every industry because it can do things like automate repetitive learning, add intelligence to existing products, adapt through progressive learning algorithms, and analyze big data. There is often confusion though, among terms associated with AI such as machine learning and deep learning.
Dr. Juan Gomez, Contributing Instructor at Kettering University, is the perfect person to shed light on AI. Dr. Gomez has a Ph.D. in Computer Science from the University of Geneva and an MS in Computer Vision & Artificial Intelligence from the University of Barcelona. Dr. Gomez currently teaches Artificial Intelligence for Autonomous Driving and Machine Drives for Electric Vehicles for Kettering University Online's MS Engineering: Electrical & Computer Engineering – Advanced Mobility program.
JL: Thank you for taking the time to chat with us.
JG: My pleasure.
JL: The first question I have is what is artificial intelligence?
JG: Artificial intelligence is an emulation of the natural/biological skills of humans to learn and apply knowledge in the synthetic/silicon realm of computers.
JL. Okay. I understand that. Can you explain the differences between artificial intelligence, machine learning, and deep learning?
JG: Sure. Each of them is a subset of the previous element in the list. Machine learning is a set of tools and algorithms, contained within AI, and meant to be used to solve non-deterministic or heuristic tasks. Deep learning is a set of algorithms, within machine learning, that are based on the fine-tuning of staggering numbers of trainable parameters and layers.
JL: We see AI in all kinds of products and services yet some critics are quick to point out the negative aspects of this technology. Can you offer some pros and cons about using AI personally, professionally, or both?
JG: Resolution and automatization of highly cognitive demanding tasks are among the main pros of AI. Likewise, the ability to assist decision-makers in business is one more main advantage of the use of AI. As a developer though, the cost of training of larger and larger machine learning models is becoming a bit of an obstacle nowadays.
JL: Some people are convinced that AI has the capacity to take jobs away from humans. What do you say about that claim?
JG: It is true that AI has the capacity to take jobs away from humans, but, at the same time, it generates new jobs and let humans concentrate on more intellectual tasks. Here is a case in point, there are few elevator operators today (they were replaced by technology), but there are millions of data scientists and ML engineers who did not exist 20 years ago. It will be the same story as it was with automatized machines during the industrial revolution.
JL: Following this same thread, how do you think AI will impact businesses and how would you recommend Kettering students prepare themselves for using this type of technology in business?
JG: AI will impact every aspect of business from the automatization of processes to the optimization of management. It does so mainly by leveraging the advantages I mentioned earlier. I do recommend that everyone become familiar with and knowledgeable about how AI unfolds as it will be a mainstream instrument in various businesses and organizations in a wide variety of industries. For sure, AI will be the key to success in future business environments.
JL: Dr. Gomez, thank you so much for enhancing our understanding about this technology.
JG: It was my pleasure.
Ethical Concerns of AI
Now that we are clear on what exactly AI is, let's consider the ethical implications it raises. While it is true that AI has been revolutionary for businesses in terms of improving efficiencies, avoiding downtimes, and aiding leaders in decision-making; no discussion of AI is complete without recognizing the inherent ethical concerns of developing, deploying, and monitoring this technology.
Christina Pazzanese, Harvard Gazette Staff Writer, explains: "With virtually no U.S. government oversight, private companies use AI software to make determinations about health and medicine, employment, creditworthiness, and even criminal justice without having to answer for how they're ensuring that programs aren't encoded, consciously or unconsciously, with structural biases" (para. 2). Academic scholars, philosophers, and business leaders continue to grapple with these types of complex ethical concerns. As debate swirls, it is important to understand the aim of applying ethical standards to AI is to "ensure that the AI initiatives of the organization or entity maintain human dignity and do not in any way cause harm to people. That encompasses many things, such as fairness, anti-weaponization, and liability, such as in the case of self-driving cars that encounter accidents" (Roe, 2021).
Whether we are using AI to drive to an unfamiliar destination, sift through applications for hiring, or request information from digital voice assistants, it makes sense to lend significant consideration to both the long-term impact and ethical implications of AI applications for both our personal and professional lives.
MS in Engineering: Electrical & Computer Engineering-Advanced Mobility
Kettering University Online provides graduate-level educational opportunities that integrate an intense academic curriculum with applied professional experience. Through this proven approach, we inspire students to realize their potential and advance their ideas by combining theory and practice better than any institution in the world.
If you are ready to learn more about AI and jumpstart your career in electrical and computer engineering, the MS Engineering: ECE-Advanced Mobility program at Kettering University Online may be the right next step for you. The 40-credit curriculum includes 10 courses consisting of 9 core courses and your choice of an elective.
Other Benefits of Enrolling in a KUO Graduate Program
Work with accomplished faculty who use our Learn Today-Use Tomorrow philosophy, which provides you with the opportunity to apply your classroom learning directly to your job and your job experiences directly to your assignments and discussion questions.
Courses are 100% online and with no GMAT/GRE requirement. This makes the program ideal for working professionals. You can get started right away and complete your work when you want and where you want!
Upon graduation, you will be part of a prestigious, global network of accomplished alumni because Kettering University has long been a leader in cooperative education and continues to maintain more than 600 corporate partnerships. Nearly 1,000 Kettering University graduates are C-level executives with major companies.
Whether you have a simple question or need advice to determine which program is best for you, our advisors are here to guide you. Schedule an appointment with one of our Admissions Advisors to get more information on the entire admissions process so you can feel confident in moving forward with Kettering University Online.
References
Pazzanese, C. (2020, October 26). Ethical concerns mount as AI takes bigger decision-making role in more industries. The Harvard Gazette. https://news.harvard.edu/gazette/story/2020/10/ethical-concerns-mount-as-ai-takes-bigger-decision-making-role/
Roe, D. (2021, June 25). Why ethical AI won't catch on anytime soon. Reworked. https://www.reworked.co/information-management/why-ethical-ai-wont-catch-on-anytime-soon/