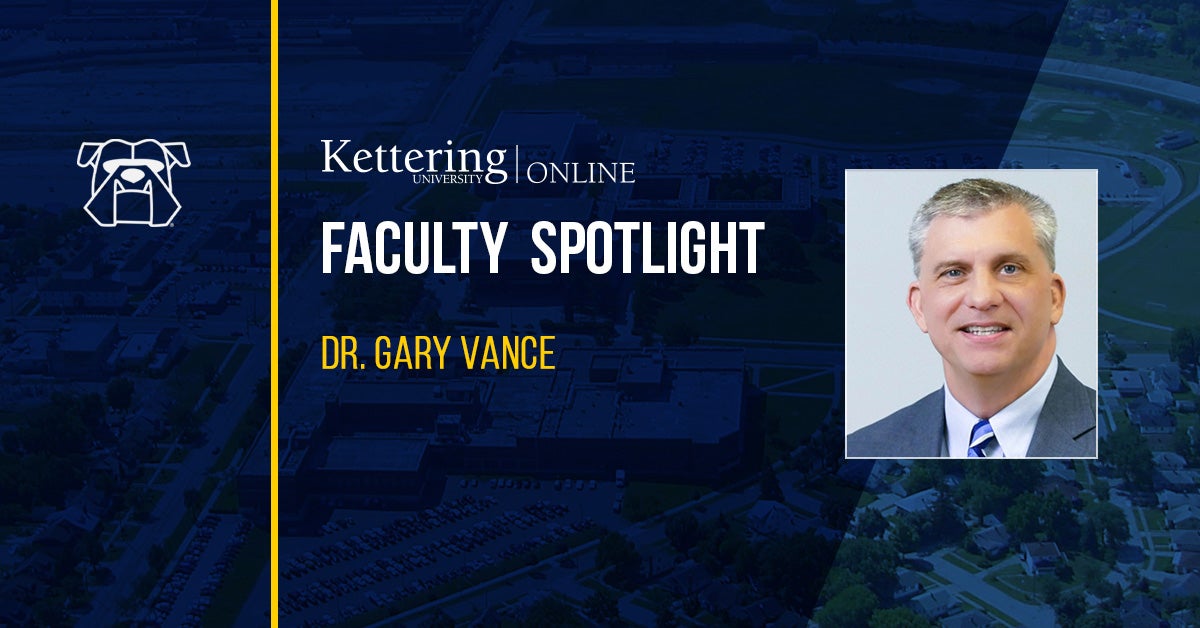 Faculty Spotlight: Dr. Gary Vance
As Kettering University Online's (KUO) Program Development Manager and Senior Instructional Designer, I have the pleasure of working with our Contributing Faculty members, and Faculty Mentors, many of whom are subject matter experts for the courses they teach. Coming from a wide range of educational, career, and geographical backgrounds, KUO faculty unite in the effort to link transformative experiential education to rigorous academic standards with real-world applications for learning that lasts a lifetime.
This time, we are happy to shine the Faculty Spotlight on Dr. Gary Vance. Dr Vance teaches Strategic Management; a course in KUO's MBA program.
Here are excerpts from our conversation.
JL: The first question I always ask is where did you grow up?
GV: I was born and raised in Anderson, Indiana which is about 40 miles northeast of Indianapolis. General Motors had a significant presence in Anderson while I was growing up as Delco Remy and Fischer Guide had large operations in Anderson. My father worked at Fischer Guide, and he spent his entire career with GM.
JL:  Which degrees do you have and from where?
GV: I have a B.S. in Mechanical Engineering from Purdue University, an MBA from Winthrop University, an M.S. in Manufacturing Systems Engineering from Kettering University, and a Doctorate of Business Administration from Liberty University.
JL: When, and how, did you know you wanted to pursue a career in Operations Management with a focus on leadership?
GV: While attending Purdue University, I worked at Delco Remy as a co-op student. I worked in multiple areas which enabled me to discern which areas resonated with me. After completing co-op, I recognized I had a real passion for Operations. I enjoy the practical application of technical problem solving that is so important in Operations. As for leadership, I served as class president and football team captain in high school. In addition, I participated in the Hoosier Boys State program after my junior year. These events sparked a real interest in leadership for me and helped prepare me for other leadership opportunities that have come my way.
JL:  Currently, you teach the Strategic Management course, in our MBA program, can you talk a bit about the core components of strategic management? Also, what would you love learners to come away with after they have taken this course?
GV:  Strategic Management is used to facilitate priority setting, focused resources, improved operations, alignment among stakeholders, and assessment of the changing environment so that the requisite adjustments can be made. In today's competitive global market, effective strategic management is often what separates the top-performing companies from their competition.
The main thing I would like for students to take from this course is the practical application of what they have learned. This course is hands-on and the group project enables students to immediately apply what we are discussing each week. By doing this, our students are equipped for real-world strategic management. Many of my students have indicated they were able to immediately apply what they learned in our course to their work setting.
JL:  Speaking of teaching, what is your teaching philosophy?
GV:  My teaching philosophy is based on the dual objectives of facilitating the effective learning of the fundamental content as well as skills in critical thinking, problem solving, life-long learning, communication, organization, and practical application.
JL:  What would you say about your Kettering learners?
GV: The learners in my Strategic Management course have been extremely mature and very diligent in their work. They also bring extensive and relevant work experience which enables them to provide very rich and robust discussion about the key aspects of strategic management.
JL:   How do you see the role of leaders changing in a post-COVID-19, world - especially one that has many businesses transitioning to more of a remote working style?
GV:  The workplace changes brought about by COVID-19 have been the most significant I have experienced in my career. In the post-COVID-19 world, the role of leaders needs to change in several ways. Leaders must accept that some work can be done remotely just as effectively as in the office. Therefore, remote work must be supported with the required infrastructure and mindset. Leaders must also embrace the need for the proper work life balance for their employees and themselves. Finally, leaders must learn what their employees' value from their work experience and seek to provide those things to retain the employees.
JL:  Effective leaders must initiate difficult discussions with colleagues, employees, stakeholders, and clients. What are three tips for having those challenging discussions?
GV:  Challenging situations certainly occur in all organizations. Therefore, it is very important for leaders to understand how to discuss these situations with the associated parties. The most important tip is for leaders to address the situations in a timely fashion. Difficult situations very rarely get better over time or on their own, so leaders are obligated to act swiftly in these situations.
JL:  Leaders, must also be good listeners. What do you convey to your students and employees about how to improve their listening skills?
GV:  I often talk with students and co-workers about active listening. With active listening, the listener will often restate what they just heard to confirm that their understanding is correct. Active listeners also focus on the speaker's words and avoid the temptation to formulate a response while the other person is still speaking.
JL:  What is the best advice a professor or mentor ever gave you?
GV:  The best advice I ever received from a professor was to be a lifelong learner. The best advice I ever received from a mentor was to let my work speak for itself and avoid openly promoting myself for advancement opportunities.
JL:  As we wrap up, are there any particular career achievements or highlights you would like to mention?
GV:  One of the most exciting and rewarding times in my career was when I served as the Materials Manager for the startup of a new Toyota assembly plant in Princeton, Indiana. I was able to spend extensive time in existing Toyota plants to learn technical information as well as about the Toyota Production System. This was very intense work with long hours, but it was also very fulfilling as we built the plant from the ground up. The startup was on schedule and budget plus we were able to provide several hundred good jobs for folks in my home state of Indiana.
JL:  For my final question: What do you enjoy doing in your spare time?
GV:  I have two children and I really enjoy taking part in their activities. Beyond that, I like to read, exercise, and work on landscaping projects.
JL: Thank you so much for making time to chat with me.
GV: It was my pleasure.
KUO honors and appreciates Dr. Vance for his contributions and highly regarded work with students.
If you are interested in becoming a member of our award-winning faculty, or a subject matter expert for course development, send your curriculum vitae and cover letter to Dr. Christine Wallace at cwallace@kettering.edu. If you are interested in becoming a student, visit Kettering University Online for information about our graduate degree programs.