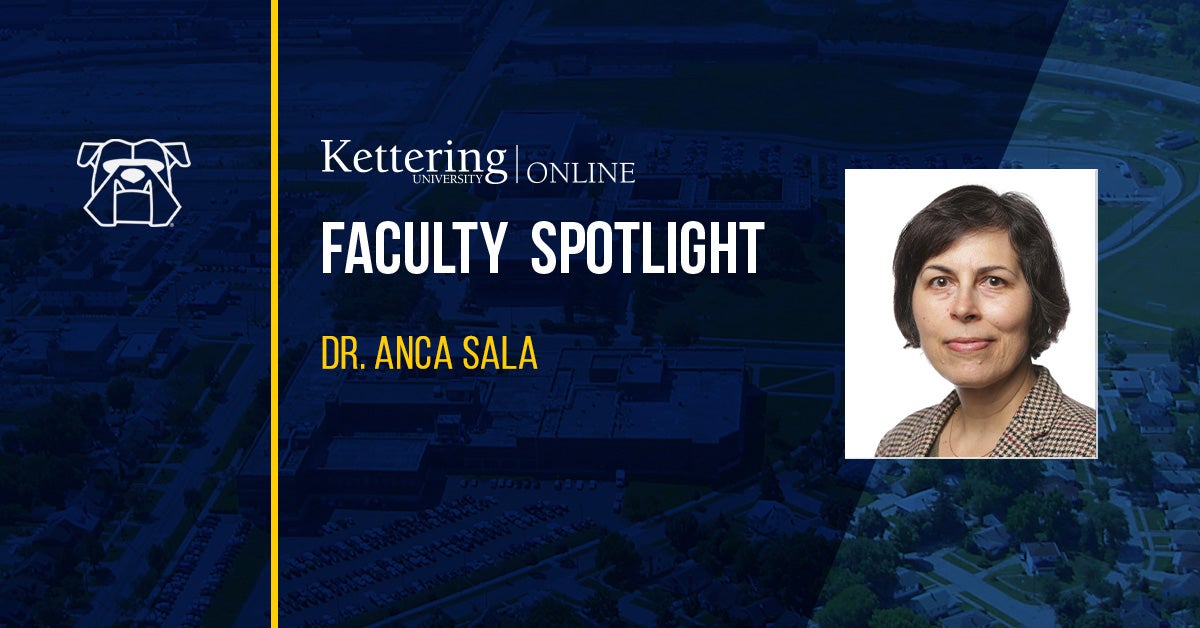 Faculty Spotlight: Dr. Anca Sala
As Kettering University Online's (KUO) Program Development Manager and Senior Instructional Designer, I have the pleasure of working with our Contributing Faculty members, and Faculty Mentors, many of whom are subject matter experts for the courses they teach. Coming from a wide range of educational, career, and geographical backgrounds, KUO faculty unite in the effort to link transformative experiential education to rigorous academic standards with real-world applications for learning that lasts a lifetime.
This time, we are happy to shine the Faculty Spotlight on Dr. Anca Sala. Dr. Sala currently teaches courses in the MS Electrical and Computer Engineering – Advanced Mobility Program. This cutting-edge program is the first of its kind equipping graduates with the technical expertise to play an integral role in developing electric and autonomous vehicles, mobile robotics, and other advanced systems.
Following are excerpts from our conversation:
JL: First, thanks so much for making the time to chat.
AS: My pleasure!
JL: The first question I always ask is, where did you grow up?
AS: I grew up in Bucharest, the capital of Romania.
JL:  What did you study there?
AS: I have a BS and an MS in Electrical Engineering from the Polytechnic University of Bucharest. After communism fell in Eastern Europe in 1989, we had more opportunities to study abroad. I came to the United States and earned my Ph.D. in Physics at the University of Toledo, in photonics - a field shared by physicists and electrical engineers alike. 
JL: When, and how, did you know that you wanted to pursue a career in engineering and technology?
AS: Throughout high school, I enjoyed mathematics and was leaning towards studying math in college. At the same time, computers and other seemingly mysterious electronic devices, were becoming more prominent. I was quite interested in learning about these, and understanding how they worked, so I decided to go with electrical and electronic engineering instead. All these years later, I still think it was an excellent choice. 
JL: What was your experience of moving through your education and career in a STEM field, which has been historically male-dominated?
AS: This is a field of intense competition and high demands. I experienced some challenges along the way but being passionate about, and dedicated to, the field helped me to overcome them. Having good mentors also helped. The first, was my father. My father was also an engineer who inspired me to succeed. Then, my mentors were great professors and colleagues.
JL: Mentors are so important! Speaking of mentors, what is the best advice a professor or mentor ever shared with you?
AS: To have confidence in myself, and persevere, even when things don't seem to be going very well.
JL: I wanted to share an interesting statistic with you, regarding women Zippia, a company providing online recruitment services, found that there are over 4,238 graduate engineers in the Unite States. 77.3% are men and 22.7% are women. Moreover, in 2021, women earned 96% of what men earned. This seems like a tough field for women. What advice would offer to women pursuing a career in engineering?
AS: To find the aspects of engineering they enjoy and are good at, and to pursue opportunities in those areas. As engineering is a fast-moving field, be prepared to spend time learning new things and acquiring new skills.
JL: Currently, you teach three courses in the MS Electrical and Computer Engineering – Advanced Mobility Program: Mobile Robotics, Digital Signal Processing Techniques, and Machine Drives for Electric Vehicles. Can you talk a bit about your favorite aspects of the program and the kind of impact you think it is having on learners and their careers?
AS: The program provides a comprehensive perspective, as well as a variety of technical skills, in the area of advanced mobility, including electric and autonomous vehicles. It features a great combination of courses that are designed to stress the application of the advanced knowledge they impart to problems encountered in the field. As the automotive industry is transitioning to electric cars and self-driving cars, that are at the same time very sophisticated computers, the industry needs engineers with the right skills, and that is what the program offers to its graduates.
JL:  Speaking of courses and teaching, what is your teaching philosophy?
AS: In my teaching, I aim to engage all learners and provide each of them with the individual support they need to be successful. I also hope that I am able to share with learners an appreciation of how "cool" the subjects I teach are and inspire them to learn as much as possible about them.
JL: What would you say about your Kettering learners?
AS: Kettering learners are very motivated and hardworking; they have great engineering knowledge and experience. I appreciate their passion for learning and their engagement in courses.
JL: I'd like to shift the focus from Kettering's program and the learners to the industry's progress. What do you think are some of the ways that advanced mobility can improve the way we live and work?
AS: There are many ways advanced mobility will improve our lives. Connected and autonomous vehicles, together with the associated infrastructure, will improve safety and reduce the number of accidents on the roads. Electric cars and a new transportation paradigm relying on a different car ownership model, as well as other models, will reduce greenhouse gas emissions. Currently, in the U.S. economy, the transportation sector is the largest contributor to greenhouse gas emissions. The experience of interacting with a vehicle and being in a vehicle, will also change. Some examples that are already under development include: biometric-based authentication, vision-based driver monitoring, and augmented reality heads-up displays.
JL: Shifting the focus again, back to you, are there any particular career achievements or highlights you would like to mention?
AS: As a research and development engineer in the telecommunications industry, I invented several patents. Th patents describe advanced photonic integrated circuit devices and components. I am also a Senior Member of the IEEE (Institute of Electrical and Electronic Engineers) and the Optica professional societies. 
JL:  That is so very interesting! Congratulations on all of your career achievement thus far! For my final question: What do you enjoy doing in your spare time?
AS: I enjoy walking, hiking, and being physically active. I also like to travel internationally and see new places. 
JL: Thank you so much for making time to chat with me. I can imagine how busy you are!
AS: It was my pleasure.
 
KUO honors and appreciates Dr. Sala for her contributions and highly regarded work with students.
If you are interested in becoming a member of our award-winning faculty, or a subject matter expert for course development, send your curriculum vitae and cover letter to Dr. Christine Wallace at cwallace@kettering.edu. If you are interested in becoming a student, visit Kettering University Online for information about our graduate degree programs.
Reference:
Graduate engineer demographics and statistics in the U.S. (2023). Zippia. https://www.zippia.com/graduate-engineer-jobs/demographics/