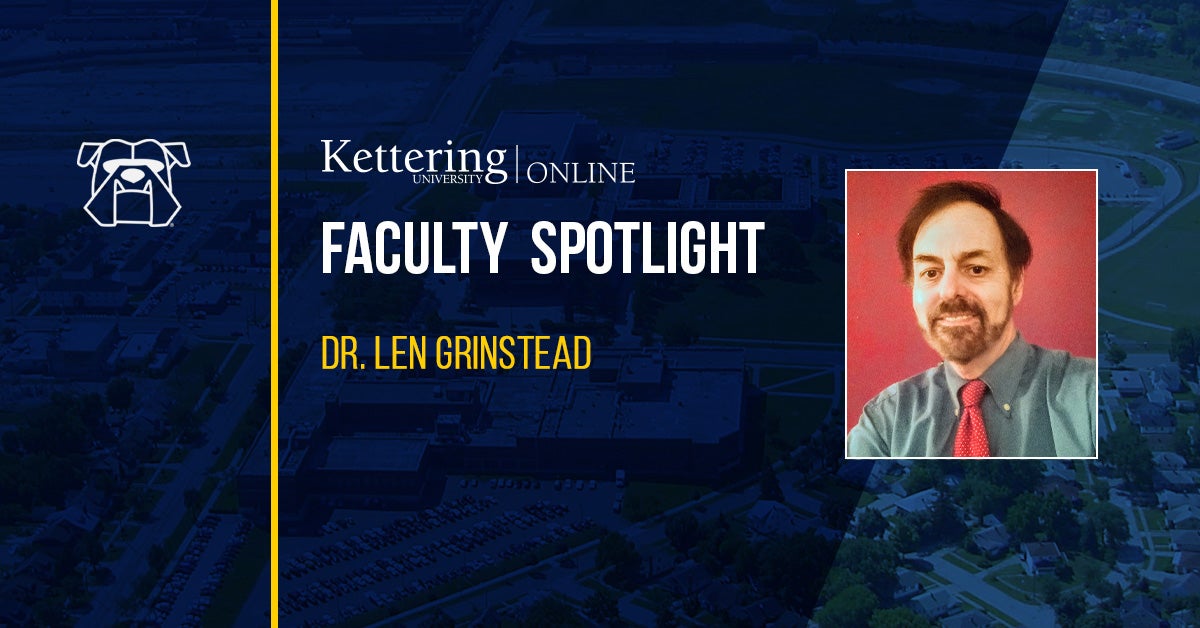 Faculty Spotlight: Dr. Len Grinstead
As Kettering University Online's (KUO) Program Development Manager, I have the distinct pleasure of working with Contributing Faculty members. Coming from a wide range of educational, career, and geographical backgrounds, KUO faculty unite in the effort to link transformative experiential education to rigorous academic standards, with real-world applications for learning that lasts a lifetime.
This time, we are happy to shine the Faculty Spotlight on Dr. Len Grinstead, who teaches the Managing People and Organizations course in KUO's MBA program. Following are excerpts from our conversation:
JL: Thank you so much for taking the time to chat! I appreciate it!
LG: My pleasure. Thanks for inviting me!
JL: The first question I typically ask is where did you grow up?
LG: I grew up in the St. Louis, Missouri area – specifically, Pine Lawn and Ferguson.
JL: Which degrees do you have and from where?
LG: I have a BA in Communication and an MBA from Rockhurst University in Kansas City, Missouri. I also have an MS in Industrial Relations (Human Resources Management emphasis), from the University of Wisconsin-Madison, and lastly an EdD, in Adult & Higher Education from Northern Illinois University in DeKalb, Illinois.
JL: In brief, what is your teaching philosophy?
LG: I believe it essential to convey, to each student, that I know who they are, am paying attention to their progress, and care about their success. Doing this can be more challenging with large classes, and in an online environment, but it makes a tremendous difference in students' level of engagement. Establishing a positive working relationship with students is the key to effective teaching.
JL: You often teach the course, Managing People and Organizations, which covers different leadership styles. Which would you say is your leadership style?
LG: I see myself as primarily a servant leader. Both as a classroom teacher, and in my professional administrative roles, my style is to inspire the vision and shape the capabilities of my team members by providing support. Situational leadership also comes into play in terms of individualizing support based on the needs of each team member. 
JL: Have you found a shift in the thinking around leadership since the pandemic? If so, can you talk a bit about that shift and its potential positive and/or negative consequences?
LG: I have.  My field is human resources management and the trend toward greater acceptance and support for flexible and remote work has led organizational leaders to focus more on results and less on the limitations that surround traditional notions of how, when, and where work should be done. I see the consequences of this as much more positive than negative, but it remains to be seen whether, and how, shifts in leadership and management practices amid the pandemic will evolve into a "new normal." In any case, I think we will continue to see greater openness to creative approaches to how people engage with their work.
JL: What do you think are the three most important qualities successful managers/leaders should have?
LG: I would say strategic vision to move their organizations toward success, the ability to motivate and inspire others, and an ethical framework rooted in integrity.
JL: I hear a lot about "followership". How can employees can improve their ability to be good followers?
LG: I believe followership and leadership are intertwined. Effective followers are those who see it as their responsibility to contribute their own creative energy, ideas, and voice, in the spirit of supportive collaboration, as opposed to merely following the "playbook" of a designated authority figure. Followers who subscribe to this style are, in effect, exercising leadership skills.
JL: Effective communication is a thread running through KUO management courses. How do you think people can improve their communication skills?
LG: I think about Steven Covey's words, "seek first to understand, then to be understood." As much as it sounds like a cliché, I think effective listening is the key to effective communication. The most effective communicators I have ever known have been outstanding active listeners. Improving listening skills requires the resolve to do so, along with self-discipline and ongoing practice.
JL: What would you say about your Kettering students
LG: I am extremely impressed with the level of engagement my Kettering students have shown consistently, in every course I have taught, over the past three years. While the credential the degree program represents is of course a motivator, it is evident the focus on learning for the sake of their own personal and professional development -- and the "real world" applications they derive from Kettering courses is of primary importance.
JL: What advice would you give to someone who is taking his or her first online course?
LG: Any impressions someone who is new to the online course environment has that the courses, or the degree program, will be less rigorous than what is experienced in a traditional setting are false. To be successful in an online course, it is essential to have (or quickly develop) strong time management and organization skills. I recommend establishing a routine and being realistic about the significant time and work commitment that is involved.
JL: Who has influenced you the most in life?
LG: This is tough question to answer because I am grateful to so many people who have been mentors in different aspects of my life. From a career perspective, two individuals stand out. When I was a young high school teacher, I had the good fortune to be assigned to a team-teaching arrangement with a veteran teacher, Mary Stolte, who exemplified the philosophy and communication style I described as my teaching philosophy. A few years later, as a new professional working in student affairs at the college level, I worked with Dr. Edward Eddy, who embodied the elements of the servant leadership style which I have tried to emulate over the years. Both of these individuals led by example and were outstanding role models.
JL: Would you like to share a particular career achievement or highlight?
LG: I have been a member of the Society for Human Resource Management (SHRM) and have held Senior Professional in Human Resources (SPHR) certification for many years. I have found SHRM to be invaluable both in regard to my work as a human resource professional and in the realm of higher education.
JL: What are some of the fun things you like to do in your spare time?
LG: A recent trip to Rome sparked a newfound passion for international travel. On the home front, I am a dog lover, and I love taking long walks along the Chicago lakefront with Ozzy, my 12-year-old Manchester terrier.
KUO honors and appreciates Dr. Len Grinstead for his contributions and highly regarded work with learners. 
If you are interested in becoming a student, visit Kettering University Online and connect with an Enrollment Advisor for information about our graduate degree programs. 
If you are interested in becoming a member of our award-winning faculty, or a subject matter expert for course development, please send your curriculum vitae and cover letter to Dr. Christine Wallace at cwallace@kettering.edu.
If you are interested in corporate, professional and/or continuing education opportunities through Kettering Global X, please consult our catalog at https://globalx.kettering.edu/pages/course-catalog-print