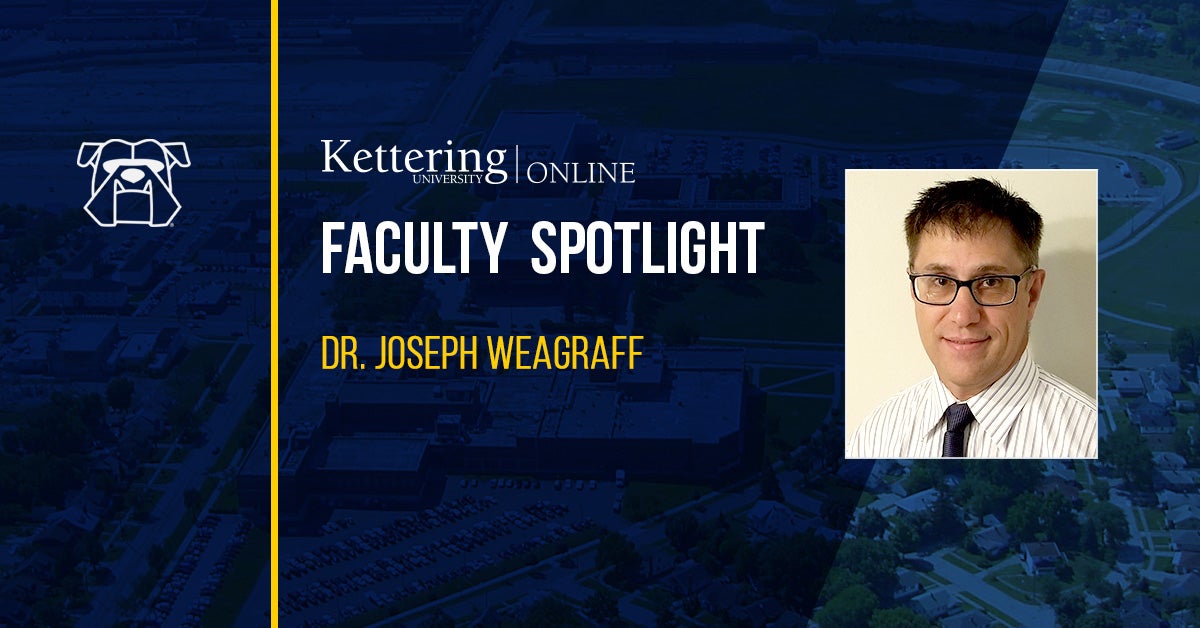 Faculty Spotlight: Dr. Joseph Weagraff
As Kettering University Online's (KUO) Program Development Manager, I have the pleasure of working with Contributing Faculty members. Coming from a wide range of educational, career, and geographical backgrounds, KUO faculty unite in the effort to link transformative experiential education to rigorous academic standards with real-world applications, for learning that lasts a lifetime.  
This time, we are happy to shine the Faculty Spotlight on Dr. Joseph Weagraff. Dr. Weagraff currently teaches a course in Project Management.  
Following are excerpts from our conversation: 
JL: Thank you so much for making time for this interview! Let's start with which degrees you hold and from which institutions.  
JW: I earned a BS in Liberal Studies, Sociology, from Excelsior College in Albany New York. Then, a Master of Arts in Management from Webster University in St. Louis and finally a Doctorate of Business Administration, with a focus in Project Management, from Walden University. 
JL: In brief, can you talk a little bit about your teaching philosophy?  
JW: First, and foremost, my teaching philosophy employs a servant leadership style, pledging my devotion, attentiveness, and hard work to both the learners and the University. I follow the golden rule; treat everyone as though I would expect to be treated. I hold the learners, and myself, to high standards and lead by example with impeccable honor and integrity. I am passionate about mentoring and sharing knowledge through personal experiences in management, leadership styles, organizational behavior, group/team development, and other business subject matters with future leaders.  
JL: You have been teaching KUO's Project Management course for some time. In which particular industries have you had corporate project management experience? 
JW: I have over 15 years of project management experience, primarily in healthcare information technology and business processes. I also have a little over one year of experience managing a project management office (PMO). I have been Project Management Professionally (PMP) certified since 2019. 
JL: With the onset of COVID-19, many organizations' employees worked remotely. How has remote work affected the project management industry?  
JW: The most critical aspect of project management impacted by remote work is physical face-to-face communication. A Project Manager can no longer observe body language and ensure 100% attention during meetings and other informal communications. The use of virtual web-based meets is fulfilling verbal communication but falls short of non-verbal communication.  
JL: That is such a good point. So much of what we understand in both personal and professional conversation comes from how we perceive and interpret nonverbal communication. 
JL: Moving on, what do you think are the most pressing challenges facing project managers in today's corporate landscape?  
JW: Again, I would refer to the scope and magnitude of remote meetings. They present many challenges in terms of communication and the ability to read the room.  
JL: Describe three characteristics of effective project managers and how they impact their teams.  
JW: I would say effective communicator, strong leadership, and competency. In terms of being an effective communicator, it is more important than ever, especially now during today's remote work environment, to be clear and concise. It is well known that poor communication is a leading cause of project failures. In addition, project managers should also possess strong verbal and written communication skills. Moreover, a project manager must be creative in using technology to reach all parties involved in the project. 
In the field of project management, professionals use the Project Management Book of Knowledge (PMBOK). This manual contains standard terminology and serves as a roadmap for effective project management offering best practices and process guidelines around project management as defined by the Project Management Institute. The authors of the seventh edition of the PMBOK, emphasize the importance of strong leadership for a project manager. In my opinion, the project manager's strong leadership instills trust in the project sponsor, team, and stakeholders.  
Finally, competency – The project manager's competency level in embedded knowledge of the array of project management approaches, strategies, knowledge areas, processes, and tools and techniques can empower the project team to complete the project successfully.  
JL: It is easy to work with project managers who are communicative, have many leadership qualities, and are competent. Often times that is not the case. Can you describe three characteristics of ineffective project managers, and how these managers tend to influence their teams?  
JW: I think procrastination, untrustworthiness and indecisiveness are three characteristics of ineffective project managers. A project manager's procrastination can easily spread to the project team. My golden rule is to lead by example.  
Also, integrity and trust go hand in hand. Once a project manager loses one of these, it isn't easy to earn back. It becomes more and more difficult for teams to work with a manager they deem untrustworthy.  
The third characteristic of an ineffective manager I would say is indecisiveness. In my experience, a project manager's indecisiveness can impact a project in many ways. The primary ways that come to mind are the effects indecisiveness could have on the project's triple constraint which are scope, schedule, and cost.  
JL: It is easy to see how the characteristics you just mentioned can really sink both a team and its project. Switching gears, how do you think the project management industry changed over the past five years?  
JW: I would also say, when I first started project management, project management was very structured. Within the past couple of years, project management has become more flexible in the use of hybrid approaches. 
JL: What do project managers spend most of their days doing?  
JW: Project managers spend the majority of their day communicating – whether verbal or written. They meet with everyone involved in the project and update project management deliverables. 
JL: Thinking now about your students, how would you describe your Kettering students?  
JW: The students at Kettering University are some of the highest caliber students I have had the privilege to instruct.  
JL: What do you think are some of the skills and characteristics employers are most wanting from their employees, and how do you think Kettering University Online's programs fill those needs? 
JW: Based on the project management course I teach, employers are looking for professionals who are team players. Employees who can be flexible, adaptable and fit easily into their organizational culture are those likely to get the job! 
JL: Thank you so much for all of your answers. Last question, can you share one fun fact about yourself or share some of the things you like to do when you are not teaching?  
JW: My family and I enjoy traveling and spending quality time together exploring new places far and near.  
KUO honors and appreciates Dr. Weagraff for his contributions and highly regarded work with students. 
If you are interested in becoming a student, visit Kettering University Online and connect with an Admissions Advisor for information about our graduate degree programs. Our programs are 100% online, ideal for busy working professionals!  
If you are interested in corporate, professional and/or continuing education opportunities through Kettering Global X, please consult our catalog. 
If you are interested in becoming a member of our award-winning faculty, or a subject matter expert for course development, please send your curriculum vitae and cover letter to Dr. Christine Wallace at cwallace@kettering.edu.