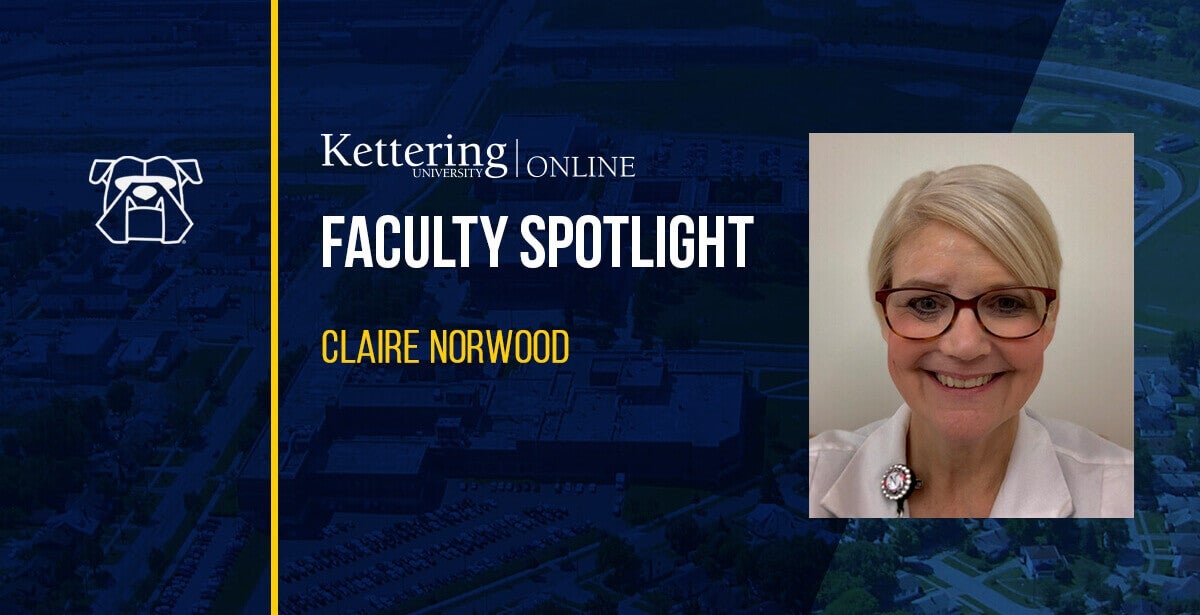 Faculty Spotlight: Dr. Claire Norwood
Written by: Jennifer Levy, KUO Program Development Manager and Senior Instructional Designer
As Kettering University Online's (KUO) Program Development Manager and Senior Instructional Designer, I have the pleasure of working with our Contributing Faculty members, many of whom are subject matter experts for the courses they teach. Coming from a wide range of educational, career, and geographical backgrounds, KUO faculty unite in the effort to link transformative experiential education to rigorous academic standards with real-world applications for learning that lasts a lifetime.
This time, we are happy to shine the Faculty Spotlight on one of our newest Contributing Faculty members, Claire Norwood, MSN/Ed, BSN. Professor Norwood currently teaches our Healthcare Management course.
Learn More About Our Online Programs
Following are excerpts from our conversation:
JL: First, thanks so much for taking the time to chat.
CN: My pleasure!
JL: Where did you grow up?
CN: I was born and raised in Sacramento until age 7 when my mother passed away. My sister and I then went to live with our uncle in Portland Oregon. At the age of 10, I moved to Buffalo, lived there with another family member until adulthood. At 18, I moved out on my own and lived in Buffalo until moving to Michigan at 26.
JL: What drew you to the nursing/healthcare field?
CN: In 2005, I had two small children and was a single parent working as a bartender. I knew that I wanted a career where I was giving back to my community and helping a vulnerable population of patients. I went to school and became a critical care paramedic. I decided to go to nursing school at age 45 and graduated in 2009. I accepted a position at Children's Hospital of Michigan as an emergency department nurse and have been there since my first day. I am currently the administrative director of nursing specialty for two emergency departments, the observation unit, float pool, clerks, sitters, patient transport, nursing supervisors, chaplains, child life, and ADA interpreter services. I feel privileged to take care of patients and families who need our care.
JL: In brief, what is your teaching philosophy?
CN: To provide a classroom environment where students are encouraged to express their ideas and participate in their learning experience. Although I stress individual responsibility for learning, I provide explanations and guidance regarding course content. I want students to enjoy the interactions in my class
and be challenged by the discussions. As a nursing leader, I am passionate about mentoring and teaching others. My role as a leader presents me with many challenges that require an understanding of effective communication skills, a high level of integrity, decision-making capabilities, creativity, delegation and empowerment, accountability, and commitment to the people that I lead. As a leadership instructor, I can help learners consider what kind of leader they are--and what type of leader they would like to become. Teaching a leadership course allows me to use my experiences as a leader to enhance the learning experience of those in my course.
JL: What has surprised you most about teaching online?
CN: As an online student for my BSN, MSN, and currently my Ph.D., I found there is amazing diversity in the student population that uses the online platform. This creates a wonderful classroom environment because it enhances the learning in discussions with students from all walks of life.
JL: How would you describe your Kettering students?
CN: It is a pleasure teaching in an environment where students have a completely different perspective, educational background, and work experience than nurses. My students have taught me so much about their industries, and where they work, which is invaluable to me. They are also very engaged and strive to do their best work each week.
JL: What advice would you give to someone who is taking his or her first online course?
CN: This is an easy question! Read your syllabus thoroughly. Log in daily to look for any updates or communication from your professor. Ask questions if you are unsure of anything. Do not procrastinate in completing required assignments. We know life can throw us a curveball here and there, so stay ahead of the game. As a professor, know that I am here to teach, support, and mentor my students.
JL: What is the best advice you have ever been given by a professor or mentor?
CN: I am never alone in my teaching or leadership role. There are always people who have offered amazing support. There has never been a time when I felt that there was not someone I could reach out to. Pat McClintock, my Faculty Mentor is amazing.
JL: Please describe a particular career achievement or highlights.
CN: I think that I am a unique individual in nursing leadership in the fact that-- most of my colleagues have been nurses and leaders in the nursing profession for much longer than I have at my level of leadership. I have been a nurse for 10 years,
which is uncommon as an administrative director. Most have been in nursing greater than 20 years. I have also led two expansion projects for the hospital. From 2014-2016, my team and I designed, built, and opened a freestanding emergency department, and renovated our existing emergency department at the same time. Additionally, my team developed and implemented a behavioral health unit in our emergency department that sees 5,000 kids per year. This is a much-needed resource for kids needing a safe environment while awaiting placement for behavioral health services.
JL: Who has influenced you the most in life?
CN: My children. Emily (age 24) and Austin (age 26) have been my "why" since I became a mom. They are the reason I have worked hard and educated myself so that I could give them the best future possible.
JL: I cannot imagine how physically, mentally, and emotionally difficult it must be working in a hospital during the last year of the COVID-19 pandemic. Can you tell us about some of the ways you have engaged in self-care?
CN: This is a tough one for me. As a woman, mother, wife, and nurse, I tend to care for others and forget about myself. I am learning that for me to be the best version of myself, I have to care for myself as much as I do others. I have focused on my health more and now take time every week to spend a couple of hours getting in the car and taking a drive or parking in a beautiful spot and reading a book. Ironically, it took COVID to get me to do some self-care. I have learned that life is short, and you only get to do it one time, so taking care of yourself is incredibly important. Your loved ones want that for you!
KUO honors and appreciates Professor Norwood for her contributions and highly regarded work with students.
If you are interested in becoming a member of our award-winning faculty, or a subject matter expert for course development, send your curriculum vitae and cover letter to Dr. Christine Wallace at cwallace@kettering.edu.
If you are interested in becoming a student, visit Kettering University Online for information about our graduate degree programs.