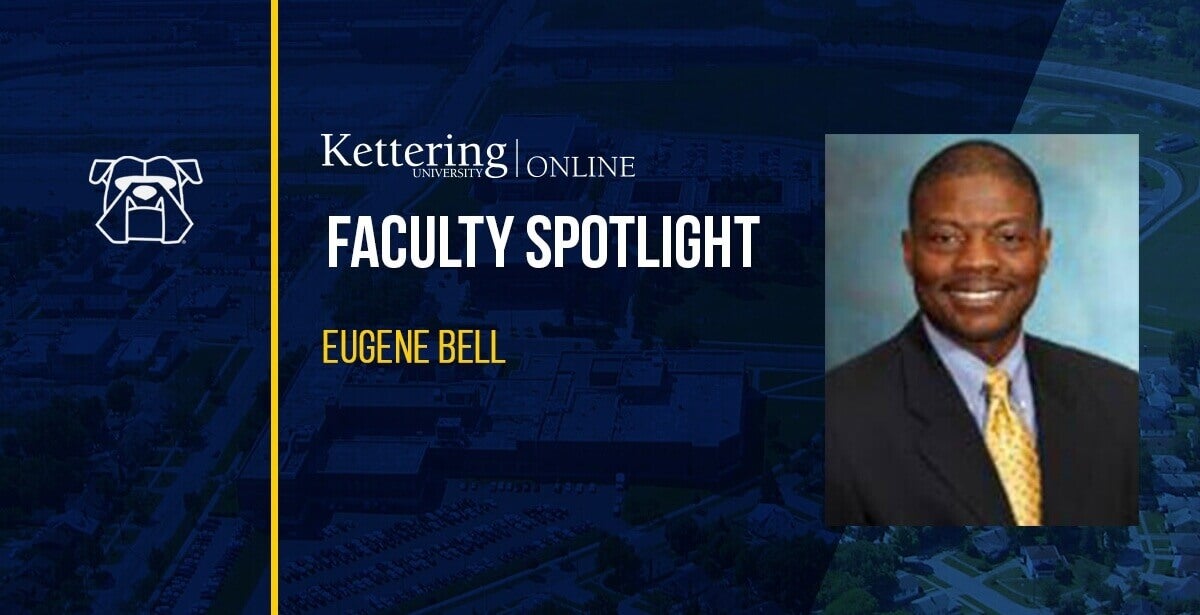 Faculty Spotlight: Eugene Bell
As Kettering University Online's (KUO) Program Development Manager and Senior Instructional Designer, I have the pleasure of working with our Contributing Faculty members, many of whom are subject matter experts for the courses they teach. Coming from a wide range of educational, career, and geographical backgrounds, KUO faculty unite in the effort to link transformative experiential education to rigorous academic standards with real-world applications for learning that lasts a lifetime.
This time, we are happy to shine the Faculty Spotlight on KUO Contributing Faculty Member, Eugene Bell. Following are excerpts from our conversation:
JL: So nice to chat with you. Thanks, for making the time.
EB: Sure.
JL: Where did you grow up?
EB: I grew up in Chicago, the Windy City!
JL: Which degrees do you have and from where?
EB: I have an MBA, with a concentration in finance and project management, from Keller Graduate School of Management and a Bachelor of Science in Electrical Engineering from Bradley University.
JL: In brief, what is your teaching philosophy?
EB: I think to teach others effectively you have to first ignite a fire of curiosity within them and then continue to find interesting ways to fuel that flame. I believe one sure way to spark a flame within learners is to show them how the theories and concepts they are learning have real world applications. I challenge and guide learners to get the best answers to problems and help them understand how the assignments and exercises are relevant in industry.
JL: Which courses do you teach for KUO?
EB: I teach Management Science, Collaboration in Supply Chain Management, and Supply Chain Logistics.
JL: What has surprised you most about teaching online?
EB: The one thing that both surprises and energizes me is the diversity of thought and perspective that learners bring to discussions. Each term, there is at least one unique perspective on a discussion topic that I haven't heard previously. The students are from various parts of the world and have a wide range of professional backgrounds and experiences that result in an interesting mix of thought provoking and insightful discussions.
JL: What would you say about your Kettering students?
EB: I find KUO students to be typically very disciplined and committed to learning the material. A lot is expected of online students and they rise to the challenge each week.
JL: What have your Kettering students taught you?
EB: In life and business, we tend to look at the world through our own unique lens. This lens is ground and polished over time through our personal and professional experiences. During the weekly class discussions, they provide me with unique perspectives on topics, which helps me keep my proverbial lens polished and in focus.
JL: I see that you have both an engineering degree and a business degree. What is one of the most important things you think engineers should know about business?
EB: I think engineers should learn about other areas of the business beyond their own technical department. For example, they should have a working understanding of the organization's strategic goals and objectives, sales and marketing strategy, operations, finance, and in some situations, even labor contracts. Engineers are now called upon, far more frequently, to resolve a range of business problems. Many progressive organizations often collaborate with their engineering groups to solve complex problems both technical and non-technical in nature, so being prepared for that is key.
JL: What was the most helpful piece of advice you have received from a professor or manager?
EB: So many gems of wisdom have been shared with me over my career. However, there is one piece of advice that I received many years ago from a mentor and it resonates with me more each year. The advice is to always treat your direct reports and peers with dignity and respect. People may forget exactly what you say, but they will always remember how you made them feel. In an age of high-tech communications, it is important that we never forget the importance of human touch and face-to-face interactions.
JL: Did you have a mentor? If so, can you talk a little bit about that relationship, and why it is beneficial for students and professionals alike to have a mentor?
EB: I've had different mentors both inside and outside of the industries I've worked. Each of these mentors have been uniquely beneficial at different points in my career. I think it is very important you have an open and honest conversation with your potential mentor up front about expectations in the relationship. The right mentor can make a big difference in your career trajectory, but you both must be in alignment on your expectations. In some instances, you may need coaching and training to help your professional growth. In other situations, you may need advice and direction on career moves, or connections to larger professional networks to access new opportunities. The mentoring relationship is not always one sided, there is a level of reciprocity between the mentor and mentee. While the mentor is typically the more seasoned and knowledgeable party, the mentee can also provide feedback, perspective, and ask thought provoking questions that the mentor had not previously considered. Through the mentoring relationship, you have someone to help you navigate the corporate landscape and answer those tough questions. You also have help developing your professional growth plan as well as an advocate.
JL: Switching gears a bit to leadership… what do you think are the three most important qualities that effective leaders should have?
EB: I think there are numerous qualities and traits important for great leadership. However, as I look back over my career, I would narrow it down to three qualities: integrity, empathy, and vision.
JL: When you have spare time, what do you enjoy doing?
EB: Astronomy and photography are my two hobbies. Astronomy has been a hobby of mine since I was 7 or 8 years old. I recall visiting family that lived in the deep south of the US in a rural area, far away from the city lights. One night I looked up at the night sky to see more stars than I had ever seen. Later that summer, I got my first telescope and I have been hooked ever since. My second hobby is photography and, on occasion, I combine my two hobbies and dabble in astrophotography. My most notable photographic capture was the total solar eclipse in 2017, also known as the 'Great American Eclipse'. I took a road trip down to Nashville, TN where I spent several hours capturing each phase of the eclipse both prior to and after totality. I had previously seen partial eclipses, but this was my first total eclipse and I must say the experience was amazingly surreal.
KUO honors and appreciates Eugene Bell for his contributions and highly regarded work with students.
If you are interested in becoming a member of our award-winning faculty, or a subject matter expert for course development, send your curriculum vitae and cover letter to Dr. Christine Wallace at cwallace@kettering.edu. If you are interested in becoming a student, visit Kettering University Online for information about our graduate degree programs.