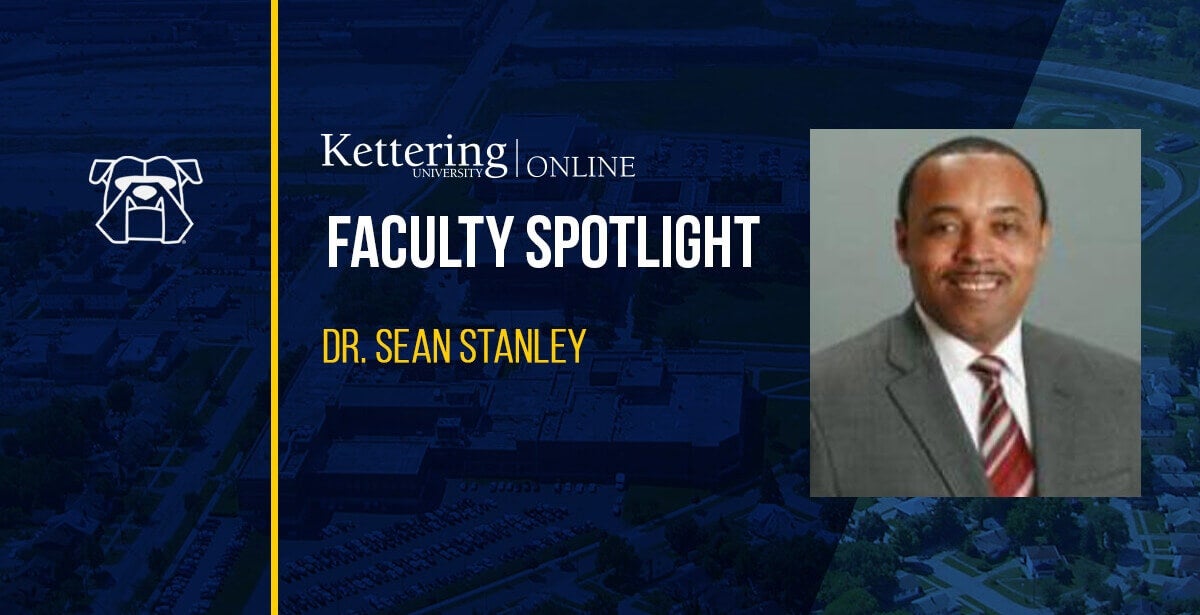 Faculty Spotlight: Dr. Sean Stanley
By Jennifer Levy, MA
Program Development Manager/Senior Instructional Designer
Kettering Global
As Kettering University Online's (KUO) Program Development Manager and Senior Instructional Designer, I have the pleasure of working with our Contributing Faculty members, and Faculty Mentors, many of whom are subject matter experts for the courses they teach. Coming from a wide range of educational, career, and geographical backgrounds, KUO faculty unite in the effort to link transformative experiential education to rigorous academic standards with real-world applications for learning that lasts a lifetime.
This time, we are happy to shine the Faculty Spotlight on KUO Faculty Mentor and Contributing Faculty Member, Dr. Sean Stanley. Following are excerpts from our conversation:
Jennifer Levy:
First, thanks so much for making the time to chat.
Dr. Sean Stanley:
You are welcome. I am happy to do so!
Jennifer Levy:
I detect a Southern accent. Where did you grow up?
Dr. Sean Stanley:
I grew up in a small town in South Georgia called Fitzgerald, Georgia.
Jennifer Levy:
What degrees do you have and from where?
Dr. Sean Stanley:
I attended college in Albany, Georgia where I earned a bachelor's degree in accounting. I earned an MBA from Albany State University. Then, I attended Walden University where I earned my doctorate degree in finance.
Jennifer Levy:
What attracted you to the field of finance and business?
Dr. Sean Stanley:
Originally, I wanted to be an accountant (CPA), but while in graduate school, I fell in love with finance because I found that it was a necessary part of everyday life. Concepts in finance help us to understand how businesses perform and how we can improve that performance. It also helps us to understand our personal financial performance, and how we can improve that as well!
Jennifer Levy:
In brief, what is your teaching philosophy?
Dr. Sean Stanley:
My teaching philosophy centers on students first, then education, then change! It essentially focuses on the importance of making a student's success in the classroom, and in life, a priority. In other words, students' success in the classroom can change their entire life. This is what education does, it provides knowledge and that knowledge creates change in that person's life. It did for me and that is why I chose to become an educator.
Jennifer Levy:
As a Faculty Mentor for KUO, what advice would you give someone who is about to teach their first online course?
Dr. Sean Stanley:
Teaching online is quite different from teaching in a traditional classroom. Although, it is not easier, which is a myth that sometimes comes up in conversations among my peers. It may seem like it is easier from an outsider's point of view, but it actually requires more time and focus. This is because you are communicating everything primarily through writing.
Learn More About Our Online Programs
Jennifer Levy:
You are our KG Faculty Mentor manager. Can you talk a bit about the idea of mentorship? What are the benefits of students having a mentor and how should they go about seeking one out?
Dr. Sean Stanley:
I love talking about mentorship! Yes, students should seek one out if they do not have one and we, as educators, should be willing to mentor at least one or two students. The benefits are tremendous because when you provide guidance and leadership, as well as encouragement and advice to the mentee, it has a tremendous impact on them. It is always satisfying to help students navigate the turbulent waters of earning a degree and finding their pathway in a very complicated world. Students will likely not forget their mentorship experience. Hopefully, they will be willing to mentor someone else when that time comes. I encourage each student to identify someone who has already achieved what he or she is seeking and ask that person if he or she is willing to be a mentor; to communicate with you from time to time and answer any questions you may have about career paths, educational paths, or personal issues. In a good mentor relationship, students can gain knowledge as well as make important connections along the way!
Jennifer Levy:
What would you say to an instructor about how to create rapport with online students?
Dr. Sean Stanley:
This is probably the most important thing an online instructor can do to ensure success in the online classroom! To build rapport, it is important to connect with students through announcements and emails that offer encouragement, trust, and support in a friendly, professional tone. Some best practices are to always address students by their first name, use an engaging tone and even when giving constructive criticism be encouraging. Also, reading students' introductions can offer insight into who they are and the chance to recognize things you might have in common. Remember, students are seeking your attention and approval so let them know they have it and that you care about their success. I have found that using these best practices helps to establish great rapport with students.
Jennifer Levy:
What advice would you give to someone who is taking their first online course?
Dr. Sean Stanley:
I would stress the importance of spending time reading through the entire course. This serves two purposes – the first is that it helps you to get familiar with navigating the online classroom and the second is that you become acquainted with the course material. I would also suggest that you set aside ample time each day to work on both discussions and assignments. A few other suggestions include proofreading all of your submissions, asking questions of your instructors and classmates, as they are some of your best resources. And always being mindful of the tone of your writing. It is critical that you are always professional and courteous. Finally, relax and enjoy the opportunity to learn in a different way!
Jennifer Levy:
What do you like most about mentoring faculty?
Dr. Sean Stanley:
I enjoy the opportunity to engage my peers in a positive fashion and help them establish best practices that benefit our students in their learning process. I also enjoy sharing my experiences from the past 16 years of teaching online as well learning from the faculty I mentor.
Jennifer Levy:
Did you have a mentor? Who has influenced you the most in life?
Dr. Sean Stanley:
Yes, my mentor was my father, Pastor Carl L. Stanley who passed away in 2016. He was my mentor, best friend, and confidant. He is the person most responsible for me completing my education. He set an example before me of how to be a man, take care of a family, and live an honorable life. I truly am grateful for having him in my life!
Jennifer Levy:
What fun things do you like to do in your spare time?
Dr. Sean Stanley:
I love sports and frequently attend sporting events whether it is my daughter's middle school basketball or football games or my beloved Carolina Panther football games. I also love spending time with my wife who is my hero and the strongest person I know! Finally, I am an avid reader, and nothing beats a great book in my opinion!
KUO honors and appreciates Dr. Stanley for his contributions and highly regarded work with students. If you are interested in becoming a member of our award-winning faculty, or a subject matter expert for course development, send your curriculum vitae and cover letter to Dr. Christine Wallace at cwallace@kettering.edu. If you are interested in becoming a student, visit Kettering University Online for information about our graduate degree programs.