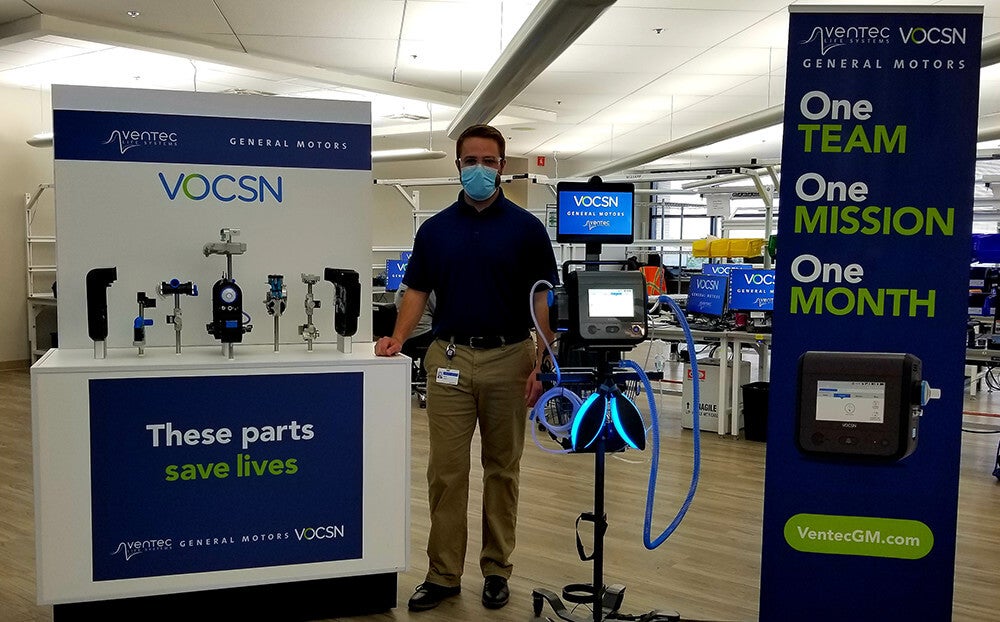 Kettering University Online Student Works on General Motors Ventilator Team
"You never know what's going to get thrown at you, but your education and experience prepare you for that moment when it does happen. All the things I've done up to this point prepared me for what we just did."
– Brian Zinser, Kettering University Online Student
Manufacturing companies around the world are pivoting quickly to produce the medical equipment needed to meet the high demand for supplies necessitated by the ongoing COVID-19 pandemic, particularly ventilators. Brian Zinser is a current student in Kettering University Online's Master of Science in Lean Manufacturing and a manufacturing engineer at General Motors. He is part of the GM team collaborating with Ventec Life Systems to equip front-line medical professionals with critical care ventilators. Zinser said when he and his teammates got the call, they did not hesitate to get to work.
Zinser explains, "I speak for my coworkers. None of us hesitated for a second when we were asked to work on this project. You look at some of the other countries where COVID-19 was before the U.S. You saw doctors having to choose between patients because there was only one ventilator. If it was my 90-year-old grandfather in the hospital, what if they gave the ventilator to another patient? It was a no-brainer."
General Motors is collaborating with Ventec Life Systems to produce VOCSN ventilators. These particular products meet the rigorous ISO international standard for safety and accuracy to qualify as a "critical care ventilator." VOCSN provides leading invasive, non-invasive, and mouthpiece ventilation, across a comprehensive set of modes and settings for pediatric and adult patients, to serve a majority of patient populations and ventilation needs.
During their first week back at the tech center, the team put in 18 to 20-hour days and assembled a training center in just seven days. Zinser credits GM leadership, and the team, for getting the project up and running so quickly. "We had tremendous support from our leadership. Any roadblocks we could have run into, they made sure we didn't. We did everything we could to move fast safely," Zinser said.
People from all different areas of manufacturing comprise the team, with each member delivering something unique to the project. Zinser's usual role is as a liaison between the design team and manufacturing, where he ensures vehicles are both manufacturable and efficient for the plant. On the ventilator project, Zinser is using his skills to help create all of the tooling for the production line. First, the team had to determine which tools were needed. Then, they designed every item a team member would need to build the ventilators, from pieces of their workbenches to torque wrenches.
Zinser noted the safety protocols put in place for this initiative are excellent, and these measures should make the employees feel more comfortable as they transition from working from home to going back to the tech center. The team is already acclimated to their new routine of wearing masks and undergoing daily screenings.
For Zinser, the ventilator project is the opportunity to put his work experience and Kettering education to use for a positive outcome. He said, "You never know what's going to get thrown at you, but your education and experience prepare you for that moment when it does happen. All the things I've done up to this point prepared me for what we just did."
Zinser said Ford CEO Bill Ford explained how the auto industry is uniquely positioned to transition to making medical supplies. In April, Ford told 60 Minutes, "There are companies that can make complicated things, but they make them in small numbers. There are also companies that can make lots of things, but they can't make complicated things…Which industry is positioned to help us not only in terms of sophisticated machinery but can do a lotta them and a lotta them quickly, the auto industry is uniquely positioned to do that." Zinser said, "The lean program at Kettering is all about how to make complicated things efficiently."
Zinser is not only proud of his work and his team, but to be a Michigander. "It makes us all proud to be part of the GM family and be Michiganders. It makes you proud to be from the state of Michigan, and it tells you what people are capable of. A great team can do just about anything."
If you would like more information about Kettering University Online's M.S. in Lean Manufacturing, talk to an advisor today! You can also download a free program guide at our online engineering degrees page for more information about admission requirements, tuition rates, and course descriptions for all KUO graduate programs or talk to a professional advisor about which program would be the best for you.