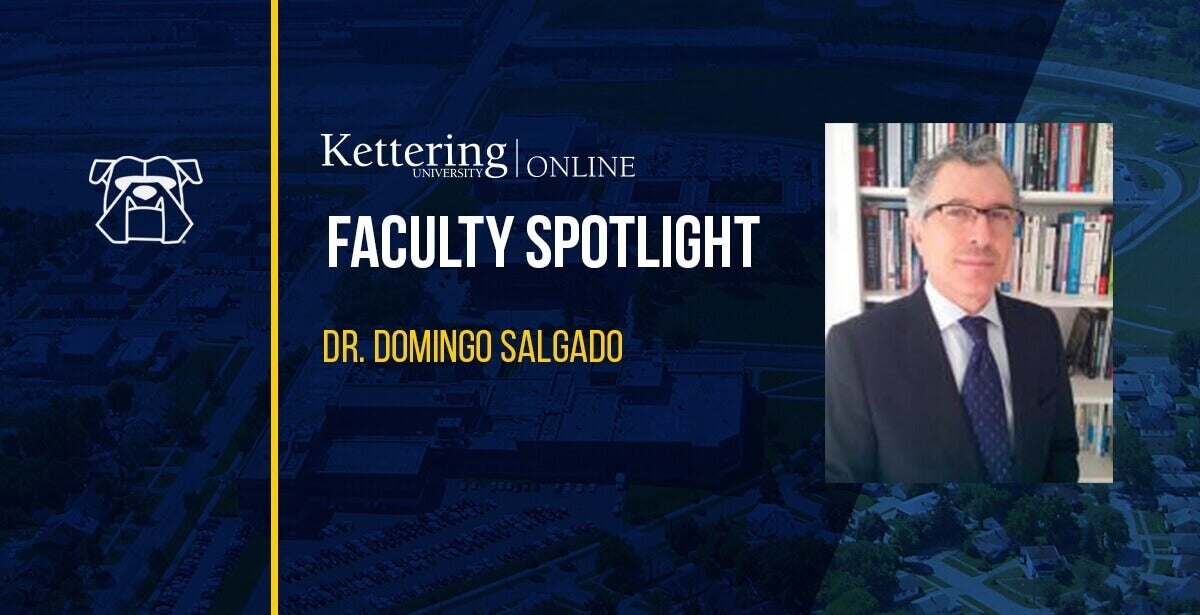 Faculty Spotlight: Dr. Domingo Salgado
As Kettering University Online's (KUO) Program Development Manager and Senior Instructional Designer, I have the distinct pleasure of working with our contributing faculty members, many of whom are subject matter experts for the courses they teach. Coming from a wide range of educational, career, and geographical backgrounds, KUO faculty unite in the effort to link transformative experiential education to rigorous academic standards with real-world applications for learning that lasts a lifetime.
This time, I chat with Dr. Domingo Salgado. Dr. Salgado was born in Santiago Spain and then moved to London in his twenties. He impressive collection of degrees include a BA from The American College, MA from the University of Leicester, PhD from Trinity College, a DBA from the European Campus Business School, University of San Miguel and three Professional Master Degrees in MBA Cyber Security, Computer Forensics, and Quality Management and Internal Auditing. Dr. Salgado is also a Court Forensic Judicial Certified Expert.
I was delighted to have an opportunity to interview Dr. Salgado and the following are excerpts from our conversation:
Jennifer Levy: In brief, what is your teaching philosophy?
Domingo Salgado: I see my experience, as an online instructor, as leading students in a learning environment that ranges from self-paced independent study to one that is collaborative and highly interactive. I define it as a community, a connection between students and the instructor. Everybody will have something to add to the class. If students' backgrounds and experiences are different from the subject under study, this is good because it allows for different viewpoints that will then enrich the discussions. Students encounter situations for which their new learning must be applied daily; therefore, these students are typically more motivated and better able to learn. The more active people are in their own learning process, the better the learning. Then, it becomes about enhancing and reinforcing the learning. When students interact in small groups, work on projects, work in teams, role-play, and apply techniques, the learning is deep and their retention of the material lasts longer. My teaching philosophy at KUO is anchored in practical education, this means helping our students stay engaged through interactive discussions. I also believe that learning should be enjoyable to inspire the next generation of professionals and guide them as they discover their path into the working world!
Jennifer Levy: What were your first thoughts about teaching online?
Domingo Salgado: I have been involved in online education for a very long time. It is a recognized fact that online courses have an increased requirement for both planning and provision of training as compared to more traditional face-to-face courses. Online students are normally busier than face-to-face students as they are typically adult learners who are working full time and have families, so being sensitive, open, and flexible is not an option but rather a requirement. The fact that the learner comes with 'a different approach' helps us also to deliver the course in a format that differs from the face-to-face model. Online learning is self-directed and again students are motivated to learn because they need this particular knowledge in order to perform effectively in their professional or personal life. The result is that the class is not teacher-centered like traditional models but student-centered. In addition, online learning transcends the boundaries of culture so the ability to be culturally sensitive is necessary.
Jennifer Levy: What has surprised you most about teaching online?
Domingo Salgado: Online versions of courses differ substantially from campus-based courses, although the basic features are common to traditional learning, such as grading policies, procedures, and schedules. I would say that in a digital environment, courses are more dynamic and offer a kind of flexibility, which is not possible with a static, more traditional class. It is necessary to remember that being an online student can be isolating so course design needs to be both engaging and detail-oriented. For example, repeating information in more than one location increases the odds that students will find the information they need. Unlike a traditional class though, an online course contains many other features that can only be provided in an online format.
Jennifer Levy: How would you describe Kettering University Online?
Domingo Salgado: I find KUO to be a high-quality institution with a great reputation. No matter what the reason is for becoming a faculty member at KUO, the end goal should always be to touch the lives of students and develop lifelong learners who appreciate and value KUO. It takes all types of people to educate students and not every faculty member will go about it the same way, but when we decide to choose teaching at KUO as a career path, we are taking on a huge responsibility and, as a result, we will experience many rewards for making this choice.
Jennifer Levy: Which courses do you teach for KUO and how long have you been teaching for KUO?
Domingo Salgado: Time flies! I have been teaching for KUO for about 4 years and I teach several sections of Enterprise Resource Planning, Enterprise Information System Models, Foundations of Business, Technology Management, and Project and Change Management.
Jennifer Levy: What would you say about your Kettering students?
Domingo Salgado: Throughout the past four years, I have liked the overwhelming majority of my students. I have always admired the way many pushed through their individual comfort levels, and even came to like subjects that used to intimidate them. Most students come with backgrounds and experiences that contribute to a comfortable learning environment as well as the desire to participate in robust discussions, which is a very powerful tool in their learning process.
Jennifer Levy: What kinds of business and technology skills are globally competitive companies looking for in their new hires?
Domingo Salgado: It is not only about having specialized knowledge and technical abilities, like software development, accounting, or digital transformation expertise, but also about behavior and thinking — personal characteristics and cognitive skills. These skills can help a person thrive in a variety of roles and different industries.
Jennifer Levy: Which hobbies do you have and/or what do you do for fun?
Domingo Salgado: During my free time, I enjoy my family, friends, travelling, mountain biking, fencing, gardening, and cinema.
Jennifer Levy: What projects are you working on?
Domingo Salgado: I am always captivated with new projects and research, mainly in the field of digital transformation. I am currently deeply immersed in block chain technology and working on becoming a qualified specialist. My work is multifaceted and I get to work with amazing students. I like the variety, the new questions that emerge, and the opportunity to work with KUO's number one asset – its great students!
KUO honors and appreciates Dr. Salgado for his contributions and highly regarded work with students and for taking time to chat!
At KUO, we are grounded by our past while innovating our future by designing, delivering, and supporting transformational educational experiences for a diverse global community.
KUO is proud to announce that they received a perfect score, 100/100, for credentialing and training online faculty from The U.S. News & World Report Best Colleges Rankings for 2018!
If you are interested in becoming a member of our award-winning faculty, or a subject matter expert for course development, send your curriculum vitae and cover letter to Dr. Christine Wallace at cwallace@kettering.edu.