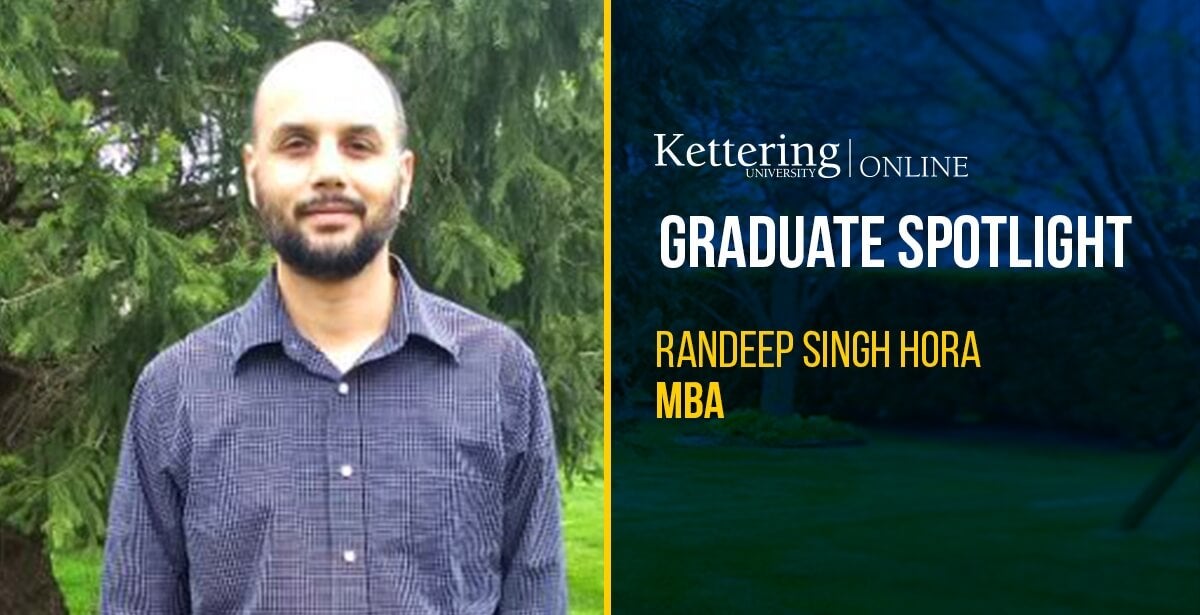 Kettering University Online: Student Spotlight
Kettering University Online conducted an interview with Kettering MBA graduate, Randeep Singh Hora. Randeep completed his MBA online in 2019 and works as an IT Strategic Sourcing Lead. 
KUO: What do you think is the value of an MBA degree in the global business world?
RH: MBA programs are structured with a holistic set of curriculum that is inculcated in the minds of the students, equipping them with the right set of tools to deal with existing and emerging issues in the complex and global business world.
KUO:  Why did you choose Kettering? 
RH: A couple of individuals that I know in my corporate circle recommended Kettering University to me; however, a primary reason behind my selection was driven by Kettering 100% online MBA offering. Pursuing MBA exclusively online was a key requirement in my selection process that a vast majority of the universities in the area lacked, except Kettering.
KUO: Can you describe your reasons and motivations for starting the program? And/or what did you want to accomplish by earning your MBA from Kettering University?
RH: The influencing factor that made me embark on the journey to begin the program was the desire to acclimatize and equip myself with requisite skills to amplify my business acumen.
KUO: Are Kettering University's accreditations and reputation an important factor?
RH: Absolutely. They are of paramount significance to me.
KUO: Why did you opt for an online MBA?
RH: My daily schedule is so tightly integrated around my family commitments, personal and professional life, fulfilling my spiritual needs and getting a decent amount of sleep that I could have not even imagined pursuing an MBA degree had the online option not been available. Kettering's online offering gave me the flexibility to find and carve out time out of my busy scheduled to complete the MBA program.
KUO: What was the experience of studying online like for you?  And how were you able to balance life, work, and coursework?
RH: I found the experience of studying online extremely constructive. I diligently planned my weekly schedule to ensure that it includes an ample amount of time for studying. This way, I usually did not feel overburdened by the learning content that needed to be read, videos that had to be watched, and the assignments that had to be completed.
KUO: What did you like most about the program?
RH: The program's structure of core classes is extremely well-rounded. Each course has been thoughtfully selected to encompass commonly desired skills by most employers. 
KUO: In what ways has your MBA enhanced your professional opportunities/how has it helped you in your career so far?
RH: I have begun employing some of the principles that I had learned from the MBA into my job. For instance, I accepted a new position within the company that requires skills pertaining to leadership, strategy and a slight financial acumen. Had I not taken these courses as part of an MBA curriculum, I would not have been experiencing the level of success that I am now cherishing.
KUO: Would you recommend the online MBA at Kettering University to other students?  If yes- why? What advice do you have for those considering it?
RH: I would absolutely recommend Kettering University's online MBA program to others for several reasons:
The students never have to set foot on campus (100% of the deliverables can be submitted online)

The program is well designed and offers an array of concentrations to choose

The instructors are experts in their fields. In addition to teaching, they also offer insightful stance of their respective fields to further enrich the learning experience of the students.
KUO: Is there anything else you would like to communicate about your experience with the Kettering MBA?
RH: No; however, if any additional specific information is required then I would be glad to offer my opinion or comments about that.