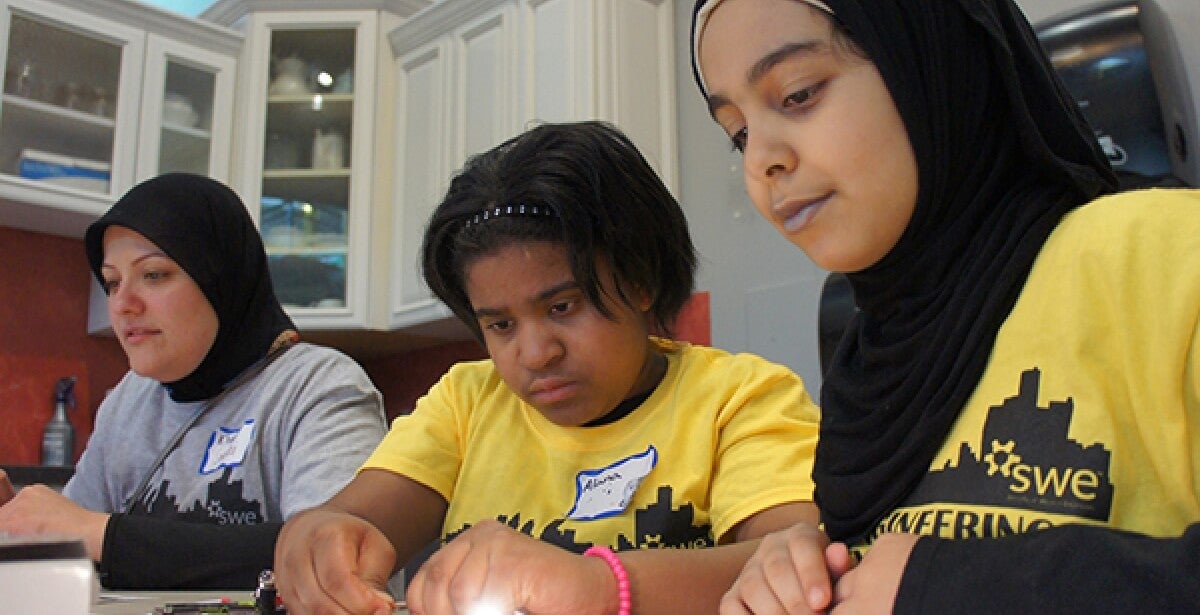 Alumna Brings Engineering to the Next Generation
Sarah Schuch, Kettering University, spoke with Kettering alumna and faculty member, Dr. Jennifer Bastiaan, about her work to inspire the next generation of female engineers. In March, Bastiaan, '97, took charge of the Society of Women Engineers' Girl's' Engineering Exploration.
Established in 1950, the Society of Women Engineers has more than 30,000 active members who dedicate themselves to the organization. The SWE's mission is to "Stimulate women to achieve full potential in careers as engineers and leaders, expand the image of the engineering profession as a positive force in improving the quality of life, and demonstrate the value of diversity." To promote their mission, the SWE provides events such as the Girls Engineering Exploration event, March 4, 2017 at Detroit's Michigan Science Center. More than 120 girls in grades 4-6, attended the event.
Bastiaan has been an SWE member for a year and a half. "Being involved in GEE was a good opportunity to expose young girls to my profession in a fun way and possibly dispel some myths about not only engineers but female engineers. It's a way to show them that women engineers are normal people. They look like you and me," she told Kettering University News.
Through her SWE membership, Bastiaan is able to reach out to younger students and fight stereotypes that engineering is a solely male profession. "Girls start believing these things in the middle school age range," she notes, "They believe 'I'm not as good at it as the boys are.' We want to give them confidence that they can do this." At these events, Bastiaan gives students' a glimpse into a Kettering education.
For the GEE event, Bastiaan created an activity, "Fun WIth Circuits." Girls learned how incandescent lights in a chain worked with an electrical circuit powered by batteries. Students observed how the lights' brightness changed depending on the number of bulbs attached.
"It's the personal interaction that's the advantage of events like that. Being able to meet them in person and talk to them is the best part of an occasion like this. It's an opportunity to expose them to STEM and Kettering," Bastiaan said. "It's great to see them smile when they learn about science and engineering."
As an alumna and faculty member, Bastiaan is able to act as an ambassador for Kettering University. She graduated from Kettering with Bachelor of Science in Mechanical Engineering and later earned her Ph.D. in Mechanical Engineering from the University of Waterloo, Waterloo, Ontario. She attended Kettering while it was known as the General Motors Institute. As an undergraduate, Bastiaan knew what she wanted to study.
"Cars were my interest. I wanted to work in the car industry and that what's piqued my interest for Kettering. I like how cars look, how they smell, how they are propelled. There really isn't anything I don't like about the automobile," Bastiaan said.
Before returning to Kettering as a faculty member, she held several positions at Roush Industries in Livonia, Michigan. In 2015, Bastiaan joined Kettering as an assistant professor. She also continues to participate in the engineering field as Associate Editor of the SAE Journal of Noise, Vibration and Harshness. As a Kettering graduate, Bastiaan knows first hand the value of Kettering's focus on experiential learning and her experience with the cooperative nature of General Motors' association with Kettering.
"Kettering has a unique value in terms of the co-op program and in terms of preparing students for the industry," Bastiaan said. "I want to do my part." Part of "doing her part' involves giving her time and knowledge to the next generation of engineers in as well as outside of the classroom. The "Fun with Circuits" workshop she created helps her reach students much younger than the undergraduate level. "It was a great way to introduce them to science and engineering in a fun way that they can understand at their grade level," she said.
Dr. Bastiaan is a great example of a scholar and engineer who is "Kettering Built." She took her knowledge from Kettering, applied it to her a career, and uses her knowledge to impact her community. Professionals looking to take the next step in their career as well as nontraditional students looking for a quality education should consider Kettering University Online. With four postgraduate degrees, Kettering University Online exposes students to faculty who have extensive professional experience. In addition, Kettering's curriculum takes classroom concepts and allows students to apply their knowledge directly to their career. Learn more about Kettering University Online.