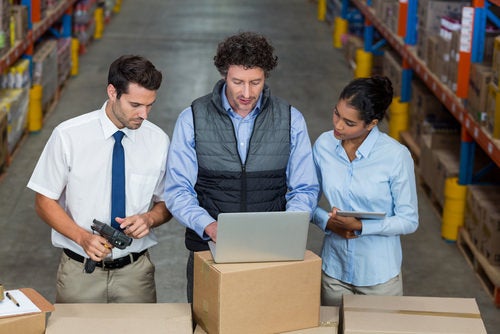 Lean Manufacturing Management Career Expectations
Leading Companies Need Lean Managers
Amazon, Nike, and John Deere are a few of the large U.S. companies using lean concepts and looking for those trained in Lean Six Sigma to lead the way. Lean manufacturing managers are in high demand. Lean and Six Sigma are no longer confined to the automotive and manufacturing industries. Now, you can take your lean experience and apply it to school districts, hospitals and media companies. Even craft brewers and copywriters are looking for people with lean manufacturing management experience to streamline their businesses. All of these companies, no matter their size, want to eliminate waste and maximize customer value.
Why Organizations Use Lean Managers
For some businesses, the company and employees are eager for change and welcome the role of a lean manager in development and training. For others, they need the lean manager to act as a consultant; educating leadership and staff on the value of lean concepts. There are several ways lean managers guide organizations.
Lean managers focus on people. While changing outcomes may seem like the ultimate goal when implementing lean tools, it's people who need to change. This is always a much more difficult change to bring about than to change a process or procedure. The lean manager's role is to clearly define a goal and then motivate and challenge people to achieve it.
Lean managers are problem solvers. This does not mean they have all the answers. It means that lean managers look for ways to empower the workforce to develop answers that work for their position or organization. Lean managers understand that sometimes what seems like the perfect solution may not work. This is where they can teach others about continuous improvement.
Lean managers lead by example. Typically, they do not dictate a plan. Instead they coach, lead, and encourage employees to create, implement and continuously improve on a plan.
Lean Management Roles
Lean manufacturing managers have a variety of titles and roles. If you're looking for a new position, look for titles such as lean consultant, process development manager, compliance officer, reliability engineer, and operations manager.
Roles differ depending on how an organization uses and employs lean concepts. There are three basic areas: consultant, manager and executive leadership.
For some companies hiring an outside consultant to work on a specified project is the best fit. This provides lean managers with a wide variety of choices such as working in healthcare, education, manufacturing and even surfing! A California surfing school hired a lean consultant to standardize their school. The end result was more time for surfing, more time for classes and more students.
Some companies place lean experts in management positions. Companies such as Amazon and Nike have managers in place to implement and oversee project management and the implementation of lean tools in the different areas of their organizations including manufacturing, marketing, and distribution.
Executive leadership is another area for lean managers. This includes positions such as vice president or executive directive. In these roles, the lean expert is in a key position to ensure the implementation of concepts across an organization.
An advanced degree such as a Master's in Lean Manufacturing can propel your career in all three of these roles. In a degree program, you engage in the latest research regarding competitive and low-cost manufacturing operations and position yourself for advancement by applying program knowledge to your organization immediately. You also learn the skills and techniques that have made Lean the buzz-word and concept companies and organizations want to apply to save resources and streamline operations. With Kettering's learn today-use tomorrow mantra you have the opportunity to take what you learn in the classroom and directly apply it to your work situation.
Kettering's degree in Lean Manufacturing is a unique approach to teaching the concepts of Lean and another reason why getting a degree from Kettering can set you apart from the competition.