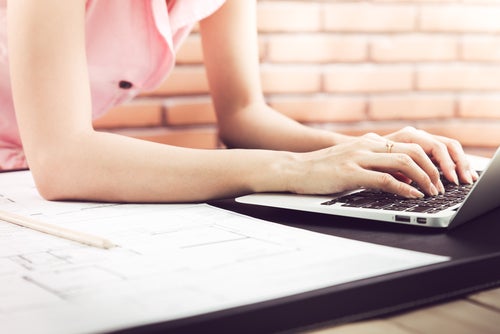 How Do Employers View Online Degrees?
Many people across the globe are looking for ways to continue their education in order to get a better job, a promotion or to enter a new industry. If they are an adult-learners they are likely to have both full-time jobs and family responsibilities. Their desire to go back to school can be thwarted easily if they cannot find a program in their discipline, at a conveniently located school, that allows for flexibility and provides a value-add.
Even if they did have a college nearby, how would they be able to take full-time courses often held during the day while working full-time and still have time available to meet their familial obligations? For the highly-motivated student, the answer to this question may be an online education.
Choosing an online master's degree program that does not require synchronous classroom time can offer the flexibility an adult-learner may need to manage both their personal and professional lives. There is an immediate savings in time spent commuting, parking and paying for gas. They no longer have to waste time commuting. Students can schedule their coursework and assignment at a time that is most convenient in their own lives.  
With the range of individuals currently taking online courses, it is also possible to grow a strong network of individuals to aid current or future aspirations, by developing relationships with fellow students, and professors. Anyone who has a Facebook page can attest to the power of online relationships.
The Myths of Online Education
Historically, employers did not have much respect for the candidate presenting with an online degree. Their common, but erroneous thinking, can be summed up in the Seven Myths of Online Education:
1. Online education is easy.
2. The quality is lower.
3. Online credits will not transfer to another school.
4. Online courses are not accredited.
5. Cheating is more common in online courses.
6. Online students cannot meet with their instructor.
7. It is more difficult to get a good job with an online education.
The Reality of Online Education
Enrollments Are Rising
The reality is that the number of online students continues to climb. "About 5.3 million students took at least one online course in fall 2013 – up 3.7 percent from the previous fall," according to Grade Level: Tracking Online Education in the United States, an annual report by the Babson Survey Research Group. While enrollment in online courses increased at public and private schools, it decreased in the for-profit sector.
Academic Rigor
The academic rigor of some online programs is on par with, or above, the academic rigor of face-to-face programs. In addition, many online programs have contributing faculty who work in the industry in which they teach. This gives students a lens through which to see how they can or will apply what they are learning to the workplace. A learn today, use tomorrow philosophy. Students learn first-hand about the best practices used by professionals during the day-to-day operations of a particular business or industry.
Academic Integrity & Cheating
Many critics of online learning are quick to mention the problem of cheating. This problem becomes moot with companies like Examity that offer live authentication and online exam proctoring to thwart cheating in the online environment. Also, test and assessment questions are typically designed to protect against cheating as they call for individual responses or application of material to individualized situations.
Value
In an article from U.S. News and World Report, Online Education Editor Jordan Friedman, explains that "employers in the field of engineering have generally become more accepting of online graduate degrees." The current thinking in the industry is that employers are far more concerned about the degree itself and the school from which it came rather than the fact that it was delivered online. This thinking indicates that the stigma generated by the myths listed above is gradually lifting and more employers are understanding the value of an online education.
Experts in online education agree that it is "critical that your online college be accredited by an agency that is recognized by the U.S. Department of Education or the Council on Higher Education Accreditation (CHEA). Online schools that are regionally accredited, as opposed to nationally accredited, have the strongest reputation and offer the widest possibility of transfer credit and respect in the job market."
Employers are realizing that online students master positive work traits along with learning course content. These are just as valuable at work as they are in the classroom.
Some of these positive work traits are:
Superior time management
Self-motivation
Advanced online collaboration skills
Advanced computer literacy
Ability to learn independently
A study by the U.S. Department of Education suggests that "distance higher education is more effective than traditional face-to-face learning and that distance higher education, combined with some traditional learning (blended or hybrid learning) is the most effective." The study concludes by adding "What seems to give distance higher education and hybrid education their significant power boost is time spent on learning combined with the additional communication opportunities that online delivery affords."
Further, according to the National Center for Education Statistics, in a study released in 2014, 2.6 million students were enrolled in fully online degree programs and another 5.5 million were taking at least one course. These numbers continue to grow because employers are beginning to place a high value on the learning experience of the online adult learner.
The way the world works and learns is changing. As more working adults turn to online education, more employers are valuing all aspects of the online learning experience.