Why U.S. manufacturing is an industry with tremendous potential
Today's factories are not your grandpa's manufacturing plants. They are increasingly digital, with computers far out numbering heavy machines. For the U.S. to become a leader in manufacturing, two major things need to happen: old infrastructure needs replacement and the workforce needs to be properly trained.
How factories must adapt.
Almost 75% of all U.S. factories are 20+ years old. These factories need technical updates so as to not lose production hours due to unforeseen repairs. This multibillion-dollar investment is critical to reaching the production potential of U.S. manufacturing. More specifically, factories need to take advantage of the communication capabilities and interconnectedness of new technologies. With the inclusion of software into the manufacturing framework, engineers can simulate processes to determine where potential breakdowns may occur as opposed to waiting for them to happen.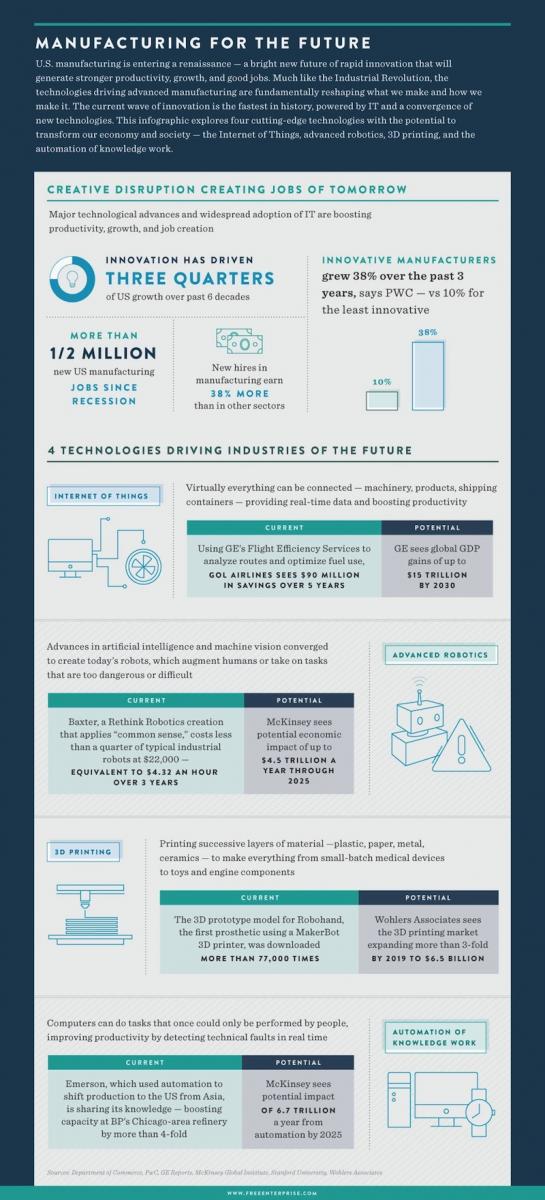 Infograph from Free Enterprise
How workers must change.
A plant full of automatized equipment can't function independently. It needs competent workers to operate the advanced technology. To fill new needs on a technologically advanced manufacturing floor, U.S. workers need to be experts in new technology. According to the U.S. Chamber of Commerce, U.S. manufacturers added half a million new jobs since the end of the recession, but manufacturers can't find enough qualified workers to fill these jobs.
Education in the STEM+ fields plays a major role in growing a skilled workforce, but almost as important is the opportunity for hands-on training, similar to what Kettering University Online offers its students. Real-life application of knowledge gives students the chance to build their resumes and advance their technical skills before graduation.