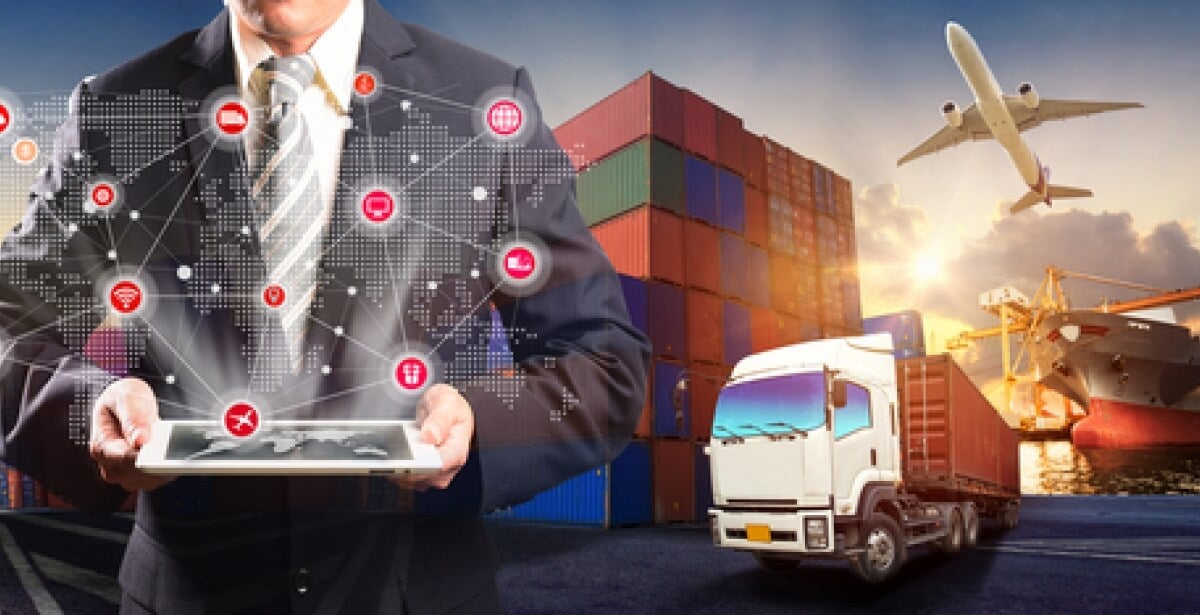 "It's not the organizations that are competing. It's the supply chains that are competing."
-          Wael Safwat, (Hann, 2015)
To be competitive, supply chain companies must implement and integrate cutting-edge technology into their supply chain operations. Kettering University Online's Master of Supply Chain Management provides the technological and managerial expertise needed to develop and manage a successful, global supply chain in a highly competitive global marketplace.
The Future is Now
The global business environment and a paradigm shift in customer expectations continue to  drive companies toward the rapid implementation of technology within their supply chain operations. This is happening regardless of industry. New technologies in logistics and transportation, inventory management systems, and product delivery are changing the way companies work with their stakeholders, supply chain partners, and consumers.
Logistics and Transportation
Companies are implementing new technology related to the Internet of Things (IoT) to improve logistics and transportation. The Internet of Things is the interconnection of devices embedded with electronics, software, and sensors. These "things" enable devices to communicate with each other without requiring human-to-human or human-to-computer interaction. Companies using IoT technology are benefiting from IoT's ability to:
Improve efficiencies

Improve communication

Accelerate productivity

Facilitate real-time visibility

Minimize human error
The following are a few examples of how companies are integrating IoT technology in logistics and transportation:
Rolls Royce is using Microsoft's Azure IoT Suite's predictive analytics capabilities to better maintain its fleet of 13,000 commercial aircraft engines around the world (Microsoft.com, 2018)

The New Jersey Turnpike Authority is working with IBM to deploy 3,000 sensors along the New Jersey Turnpike. The sensors can generate data so emergency services can get to accidents more quickly and traffic management operators can make real-time decisions to reduce congestion (Roberts, 2016)

U.K. food distributor JJ Food Service implemented IoT technology to monitor temperatures, ensure regulatory compliance, and streamline record keeping for 60,000 monthly orders (Rosencrance, 2018)
Inventory Management Systems
Technology is rapidly changing the way companies manage their supplies and track their inventory. Supply chain professionals understand that better inventory management can cut costs and waste, leading to more efficient operations. Companies have dozens of choices when it comes to inventory management systems. Finding the right one can help companies overcome the challenges of forecasting demand and help them determine how much inventory is necessary. Some inventory management systems use big data, implementing radio-frequency identification (RFID) tags, and employing automated warehouse solutions.
Big data is also impacting supply chains. Big data is the term that describes using extremely large datasets to provide information for decision making. When large datasets are analyzed computationally, they can reveal patterns, trends, and associations that can influence a company's decision making. RFID technology uses electromagnetic fields to automatically identify and track tags attached to objects. For example, a company could use RFID tags to track goods at the pallet, case, and item level. This could reduce labor costs and provide visibility of inventory (Quest Solution, 2018).
Some companies are automating part or all of the warehouse processes. Amazon, for example, is widely known for its implementation of an automated robotic warehouse solution called Kiva Systems. Kiva Systems' robots pull items off the shelves and pack them for customer order fulfillment. Using automation in inventory management can reduce labor costs, create efficiencies, and reduce errors.
Product Delivery
Autonomous vehicles are likely to disrupt the way companies think about product delivery. Imagine the day an autonomous vehicle simply can deliver products right to your house.
Drones are another potential technological trend in product delivery. Amazon has been working on their delivery system, Prime Air for some time. Prime Air is "designed to safely get packages to customers in 30 minutes or less using unmanned aerial vehicles, also called drones" (Amazon, 2018).
One day, drones and autonomous vehicles could be as common as seeing a FedEx or UPS delivery truck. Supply chain professionals poised to capitalize on technological trends, with regard to logistics and transportation, inventory management systems, and product delivery, will be in an excellent position to provide added value to companies and customers.
The Master of Science in Supply Chain Management degree from Kettering University Online is designed for professionals wanting to learn about and execute the tools, techniques, and best practices involved in adapting new technologies, procurement, logistics, purchasing, inventory management, compliance, and distribution. After completing the degree requirements, you will have a fuller understanding of how to manage the complexities, technological innovations, and decision-making tools necessary to design value in a global supply chain.
Sources
Amazon.com (2018). Amazon Prime Air. Retrieved from https://www.amazon.com/Amazon-Prime-Air/b?node=8037720011
Fitz-Gerald, S. (2018, January 9). The Black Mirror killer pizza truck is real now, thanks to Pizza Hut. Retrieved from https://www.thrillist.com/entertainment/nation/black-mirror-season-4-cro...
Hann, Bronwen. (2016, December 1). 7 inspirational supply chain quotes from the experts. Retrieved from https://www.linkedin.com/pulse/7-inspirational-supply-chain-quotes-from-...
Microsoft. (2018). Predictive analytics help optimize Rolls-Royce airplane engine performance. Retrieved from https://www.microsoft.com/en-us/internet-of-things/customer-stories#manu...
QuestSolution (2018). Pros and Cons: The use of RFID for inventory management. Retrieved from https://www.questsolution.com/blog/item/34-pros-and-cons-the-use-of-rfid...
Roberts, F. (2016, November 14). Delivering the goods: 8 examples of IoT transforming supply chain. Retrieved from https://internetofbusiness.com/8-real-life-examples-iot-supply-chain/
Rosencrance, L. (2018). IoT logistics technology already speeding up supply chains. Retrieved from http://internetofthingsagenda.techtarget.com/feature/IoT-logistics-techn...