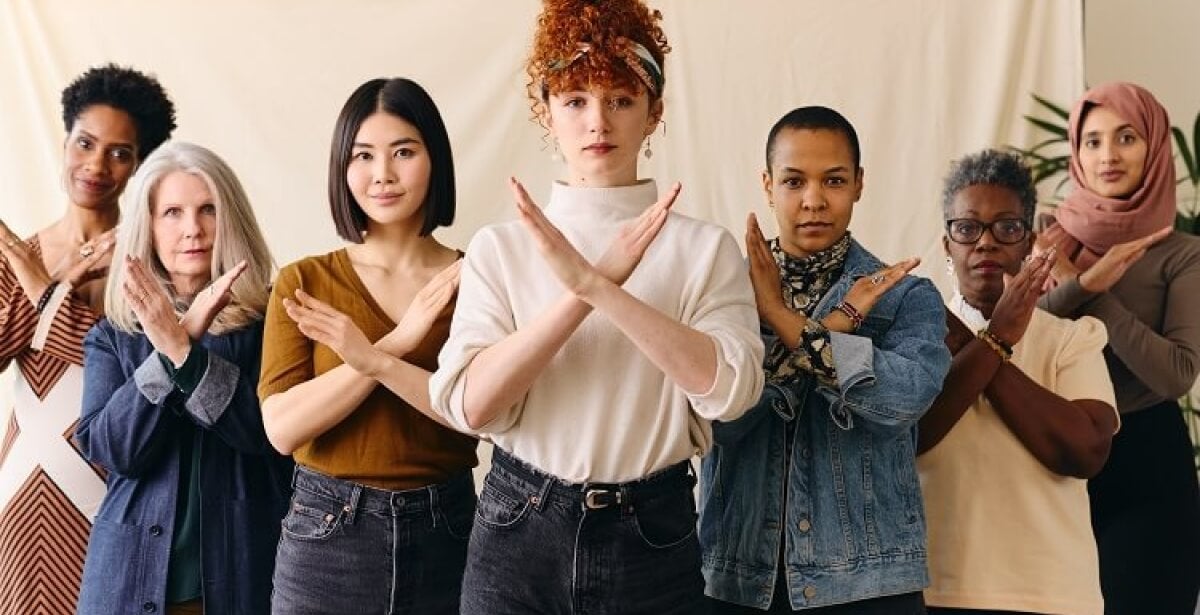 International Women's Day – March 8, 2022
Since 1911, schools, institutions, corporations, and non-profits around the globe set aside time each year to specifically celebrate the social, economic, cultural, and political achievements of women. In addition to the celebration, this day also marks a call to action for accelerating women's equality (International Women's Day).
Kettering University Online joins in celebrating International Women's Day (IWD) on Tuesday, March 8. The theme of this year's IWD is #BreakTheBias, and is designed to be an ongoing social movement. Complete with a #BreakTheBias pose (crossing your arms to show solidarity), the movement is designed to empower people to actively:
Call out gender bias, discrimination, and stereotyping each time we see it
Evaluate our own conscious and unconscious biases
Work to break the bias in our communities, workplaces, schools, colleges, and universities
"Imagine a gender-equal world.
A world free of bias, stereotypes, and discrimination.
A world that is diverse, equitable, and inclusive.
A world where difference is valued and celebrated.
Together we can forge women's equality.
Collectively we can all #BreakTheBias" (International Women's Day, 2022, para 1.)
Biases and Stereotypes in STEM
Unfortunately, biases and stereotypes still serve to steer girls away from STEM careers. It is no secret, that there are fewer women majoring in STEM subjects in universities, working in STEM industries, and leading their STEM organizations in management. This gender gap has severe implications for both the present and future. Taking both short-and long-term action to reduce the gender gap in STEM education is a positive step for all.
Myth and Misinformation
There is widespread agreement among academicians and industry leaders that more must be done to close the gender gap in STEM careers but until the myths, misinformation, and discrimination are eliminated, little may be achieved. Here are a few examples:
Men are better than women in STEM fields
Women and girls are just not interested in STEM
STEM subjects require a natural talent
Women cannot balance having a career in a STEM field with having a family
There is a lack of female role models in STEM fields
Actively working to debunk these and other myths and replacing them with the benefits of a career in STEM will further the effort to decrease the gender gap in both STEM universities and industries.
Potential Solutions for Closing the STEM Gender Gap
Closing the gender gap in STEM institutions and industries is no small task. Here are a few ideas for working towards this aim:
Introduce girls to STEM topics from a young age
Foster their motivation to study math and science
Challenge society's limited thinking by teaching girls about the accomplishments of women in STEM industries
Challenge your own internal/unconscious bias about women working in STEM
Create leadership roles for women in STEM organizations
Benefits of a Career in STEM
Here are examples of how a career in a STEM industry can benefit women:
Women employed full-time, year-round in STEM occupations earned more than their non-STEM counterparts
Women can help to broaden the viewpoints and areas of study of STEM topics by relying on their experience of being in the world, which is a distinctly different experience than men
There are very few women in STEM leadership roles – combing your knowledge of technical areas with business acumen and leadership skills could land you in a C-Suite
STEM careers can build confidence and enhance financial security
More women in STEM fields helps to dissolve gender stereotypes and narrow the pay-scale gap

What Can Organizations Do?
The first part of solving the problem of the gender gap has to do with getting young girls interested in STEM; the second part is encouraging and supporting them through their education, and the third part must be initiated by companies in STEM industries.
Many professionals in STEM industries are working diligently to recruit, hire, and retain female talent for their companies. Offices, manufacturing plants, and factories, once designed by men for men, are being transformed into spaces more welcoming to women.
Executives who realize the importance, and benefits, of having an inclusive and diverse workforce, are motivated to make changes to both company policies and the physical environment. Investing time and money into making engineering workplaces gender-neutral, and having women in all levels of leadership, is likely to give companies distinct competitive advantages. One can begin to re-shape an existing corporate culture into one that is committed to having a diverse staff by implementing some of the below suggestions.
Physically
Companies responsive to women's need for safety, healthcare, and a balanced work-home life are among those attracting top female talent. Taking appropriate measures to ensure women feel safe is not only the right thing to do, but a smart business practice. Some ideas are to:
Make sure walkways and parking structures are well-lit
Have accessible bathrooms near workstations
Provide healthcare benefits
Provide paid maternity and adoption leave
Offer on-site daycare or company-sponsored daycare close to the office
Aesthetically
Both men and women appreciate paint colors and artistic design elements. Researching color palettes and decorating styles, that both men and women can enjoy, is one way to make women feel more comfortable in the workspace. Companies can:
Use gender-neutral colors
Provide comfortable furniture
Decorate with artwork and plants
Have open space designs encouraging collaboration
Psychologically
To be productive and creative, employees must feel a sense of psychological safety. Many women are confronted with gender bias, sexist remarks, sexual harassment, and offensive imagery in the workplace. To recruit and retain talented women, their workplace must be free of this antagonistic energy; some ways to do that are:
Avoid gender bias in written, printed, and digital language
Do not tolerate sexist remarks or stereotypes
Make sure images and pictures are work appropriate
Develop and implement programs about sexual harassment
Professionally
STEM industries are highly competitive and those companies striving to increase workforce diversity are realizing they must provide meaningful opportunities for women to advance and lead. Companies that do the following will be attractive to many women looking for work in STEM industries:
Provide diversity training
Conduct programs, events, and training sessions about career paths
Offer mentoring opportunities
Offer flexible working arrangements
Benefits such as stronger financial performance, more collaboration, and increased innovation are linked to companies having women in leadership positions. Ultimately, making work environments female-friendly is more challenging than applying a new coat of paint or having yearly training. Effective leaders must continue working diligently to change corporate culture by making workplaces more female-friendly and providing opportunities for women to advance their careers.
Kettering University Online Programs
Interested in beginning, or continuing, your STEM or Mechatronics journey? If so, Kettering University Online is the school for you because they offer:
Courses that are 100% online so you can work when and where you would like
Multiple intakes per year in fall, winter, spring, and summer
Complete your degree in as few as 18 months
The opportunity to be a part of a prestigious alumni network
The ability to apply what you learn to your job immediately so you can offer real-world solutions to influence your company's bottom-line
Take classes with a wide range of individuals from across the world and the country
Learn from professors, who not only have great academic credentials but years of business and professional experience
Download your free guide to learn more about admission requirements, tuition rates, program requirements, and course descriptions. You can also call one of our Admissions Advisors.