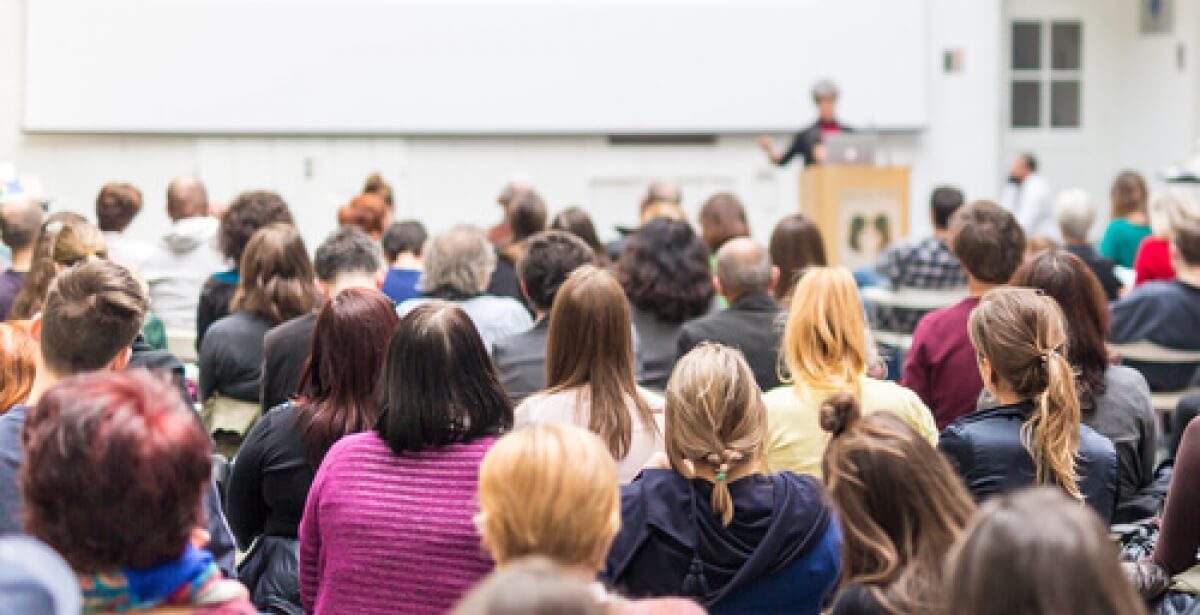 Kettering University Online is Going to SWE 2018!
Kettering University Online faculty and staff are heading for Minneapolis, Minnesota to participate in The Society of Women Engineers' 2018 conference. The Minneapolis Convention Center will be home to the world's largest conference for women engineers from October 18-20.
The Society of Women Engineers (SWE), established in 1950, created a mission to "empower women to achieve full potential in careers as engineers and leaders, expand the image of the engineering and technology professions as a positive force in improving the quality of life, and demonstrate the value of diversity and inclusion" (SWE, 2018, para. 4). To this end, SWE provides learning and outreach programs, advocates on public policy, and awards those doing commendable work in the industry. Another example of SWE living their mission is The SWE Scholarship Program, providing financial assistance to women admitted to accredited baccalaureate or graduate programs, in preparation for careers in engineering, engineering technology, and computer science.
The conference theme "Let's Break Boundaries" is "rooted in the notion that all women engineers, young and old, veterans, those in the early stages of their career, and engineers still pursuing their collegiate degree are breaking boundaries both personally and for women across the globe" (SWE, 2018, para 1).
Lezlie Koch (LK), an electrical engineering major and Olivia Wanless (OL) a mechanical engineering major are members of the SWE student chapter at Kettering University. Both recently shared their reasons for joining SWE. They also explained how the organization has helped them find their place in the industry and network with peers and potential employers.
 
Q: Why did you choose to join SWE?
LK: Because there is a limited number of women on Kettering's campus I thought going to SWE meetings would allow me to interact with other women who have the same aspirations as I do. The other reason I joined SWE was that I felt like participating in SWE activities would allow me to gain insight from women who already had successful careers in industry and I could see them as mentors.
OW: I chose to join SWE for a couple reasons. First, because of the community. I wanted to build a network of women with similar interests to mine since there are so few women in the field of engineering that I have chosen. Second, I joined SWE because of the opportunities. I have met prominent and successful women and traveled across the country through my SWE involvement.
Q: "For more than six decades, SWE has given women engineers a unique place and voice within the engineering industry" (SWE, 2018, para. 1). How has becoming an SWE member helped you find your unique place within the engineering industry?
LK: Being an SWE member provides me with opportunities to meet amazing women engineers and has also facilitated my ability to gain the confidence that I needed for work. I remember going to an SWE Conference presentation, and the speaker was explaining how we, as women, are apologetic for things we have no control over. I specifically remember sitting there and thinking that I did this all the time not only at work but also in my personal life. So, her advice to stop apologizing for the things I can't control resonated and ultimately helped me learn that I do have a voice in the industry. SWE has also allowed me to explore different facets of engineering. I have found that I am very interested in materials and manufacturing from talking with women who are currently working, or have worked, in those areas of industry.
OW: My involvement in SWE helped me realize that, although I am the only woman working in the area I am in at my company, I am not the only woman in the industry. Through webinars and conference sessions, I have learned how to communicate effectively in the workplace, particularly when there is bias. I have found my place in manufacturing engineering, which is a field with very few women.
Q: Do you think SWE networking opportunities may lead to future career opportunities?
LK: I knew when I joined SWE that I would have networking opportunities available, but I underestimated it. As a sophomore attending my first conference, I was overwhelmed by the number of women not only there but willing to talk to me. I remember specifically waiting for a presentation to begin, and one of the speakers approached me and started asking me questions about where I was from, what my major was, and where I went to school. It turned out that she was an alumnus of Kettering University, worked at GM, and was doing on the spot interviews for an open position in her group. As soon as I mentioned Kettering University, she wanted to interview me and any other Kettering student at the conference. She knew that because we were Kettering University students we had potential. There were many opportunities available at other conferences, and when we have invited speakers to our campus meetings. Even more opportunities came when I attended the 2017 SWE Conference. I was accepted into the Collegiate Leadership Institute where I learned how to promote myself and improve my networking skills with peers and professionals. None of these opportunities would have been available to me if I didn't join SWE.
OW: The SWE career fair is a wonderful opportunity for networking because we have the chance to meet with company representatives and others in the industry. On a more personal level, the speakers we bring to Kettering University often speak individually with students to help us build a network of personal connections. I look forward to reaching out to the individuals I have met through SWE when it comes time to seek a full-time position.
 
With keynote speakers, presentations by industry experts, opportunities to tour area plants and facilities, a variety of social activities, and a career fair, SWE18 promises to be not only the world's largest conference for women engineers but also the most informative and most fun!
Kettering University Online proudly supports women in engineering. In 2016, our faculty was recognized by the Society of Women Engineers; Diane L. Peters, PE., Ph.D., Assistant Professor of Mechanical Engineering received the Fellow Grade Honor – an honor conferred on SWE members in recognition of continuous service to the advancement of women in the engineering profession – and Rebecca M. Reck, Ph.D., Assistant Professor of Mechanical Engineering, received the SWE Distinguished New Engineer Award, honoring women engineers who have been actively engaged in engineering during the first ten years of their careers.
For more information about our graduate programs contact 855.418.0201 or visit Kettering University Online.
 
Source
SWE. (2018). About SWE: SWE mission. Retrieved from http://societyofwomenengineers.swe.org/about-swe
SWE. (2018). World's largest conference for women engineers. Retrieved from https://we18.swe.org/#
SWE. (2018). SWENext clubs 101: Let's get started. Retrieved from http://societyofwomenengineers.swe.org/images/SWENext/SWENext-Clubs-101-...
SWE2018. (2018). Press: Career fair. Retrieved from https://we18.swe.org/about/press/