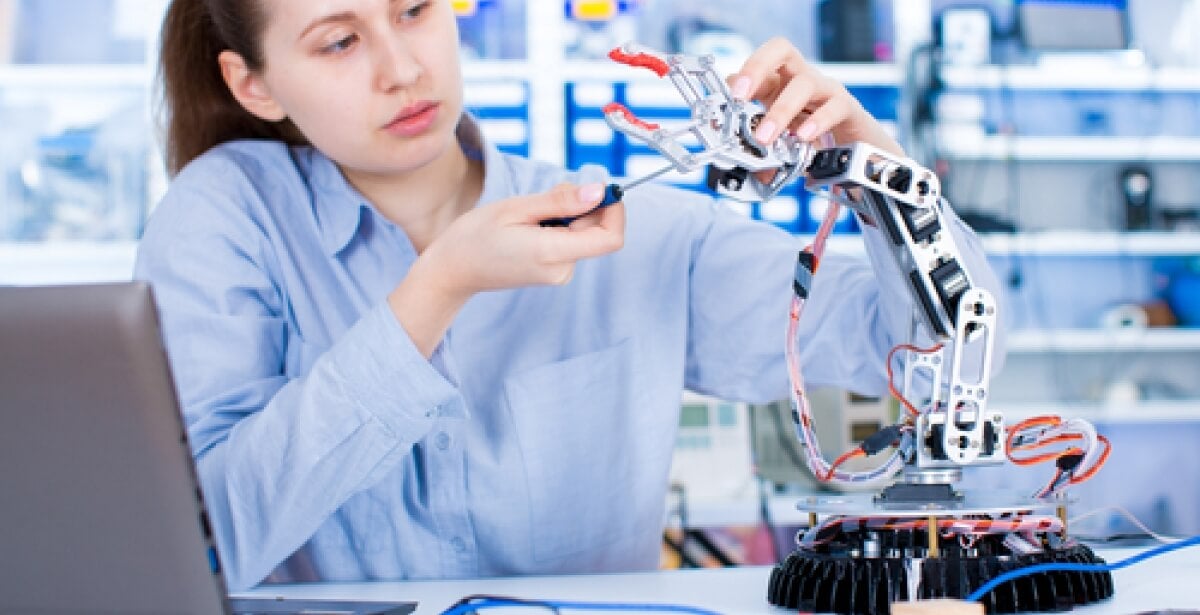 FIRST Robotics: Design a Robot-Become a Manager
High school students are getting an early taste of engineering, thanks to Kettering University's annual FIRST robotics competition.
"Everybody thinks you're a nerd because you like math and science. But, it's about having fun and loving what you do. Who doesn't want a job that they love and enjoy!" said Bob Nichols, director of Kettering University's FIRST Robotics Community Center. "I love working with these kids and watching them grow!"
Nichols said the competition is great way for students to explore the kind of skills they'd learn in Kettering University Online's Masters in Engineering Management program.
Kettering University is a national leader in supporting youth robotics programs through summer camps and pre-college programs, scholarships and with its FIRST Robotics Community Center. The FIRST Robotics Competition is a nationwide battle for high school students who have six weeks to build and program industrial-size robots. It's known as the "Sport for the Mind" and is as close to real-world engineering as kids can get. This year's competition kicked off in January with more than 60 teams celebrating at Kettering. Teams from eight high schools have spent six weeks building in Kettering's center with their college mentors, who are all former FIRST competitors.
The Value of Early STEM Learning
Nichols says there is huge value in kids starting STEM learning early. He says 30 percent of Kettering University freshman competed in FIRST Robotics. These kids not only have an advantage when it comes to college admission, but after graduation as well. "Our employers want FIRST Robotics students. What talent, leadership and teamwork these kids bring. These are not skills you see coming out of other high school students," Nichols said.
Nichols explains that the competition is about more than building robots. Each team is made of sub-teams that focus on a different area such as marketing, electrical systems and programming. Nichols says it's like running a small business. "They have to do a research project, come up with a solution, and make a presentation. They are very articulate. There's a lot more than just STEM. It's the soft skills these kids pick up so quickly."
FIRST Robotics judges evaluate students on their presentation skills as well as their robotics. Nichols compares the competition to NASCAR, in which the kids have 15 minutes in the pits to solve their robots' challenges and get them back out into the ring. "The judges will go into the pits and ask kids questions during the competition and they need to be prepared with answers. This experience all adds up to employers saying, 'I want these kids.'"
MSEM
Nichols says the skills FIRST students learn in early STEM programs translate into the kinds of leadership skills engineers need if they want to move into management. These are the skills students develop in Kettering's Online Masters in Engineering Management program. Graduate students learn holistic leadership, communication, marketing, global trends, business, finance and resource planning. These are the tools needed to manage high-technology, cross-disciplinary teams. "The soft skills they learn at robotics competitions are the skills they need to be at that high level. If they are seeking management, the FIRST robotics program leads them to Kettering, which leads them to their next step," Nichols said.
FIRST Steps
Kettering's First Robotics Community Center is hosting summer programs for kids from elementary grades through high school in 2018. Nichols said the earlier kids start playing with STEM, the better it is for their future. "It's important to get little kids interested so they can get excited and get into the right courses in high school. I have watched these little kids at the elementary age come in and get excited." Nichols said he's often surprised at the poise demonstrated by third, fourth and fifth graders. "I have to cover my mouth because I can't believe how advanced they are. Watching these kids transform from shy and unsure kids to mature students out selling and trying to get funding makes it all worthwhile."
Kettering is teamed up with Flint, Michigan, schools to work on Junior FIRST Lego programs. Nichols has a goal to put a program in every Flint school over the next two years. "We want more kids excited about STEM. These kids start to get excited and think 'I'm enjoying this and now I want to be an engineer or a scientist.'"
To online chat with a professional advisor: /programs/masters/engineering-management-masters-online
Source
/programs/masters/engineering-management-masters-online
http://www.mlive.com/news/flint/index.ssf/2018/02/like_watching_a_child_be_born.html
https://news.kettering.edu/news/kettering-university-receives-40000-gm-foundation-stem-education