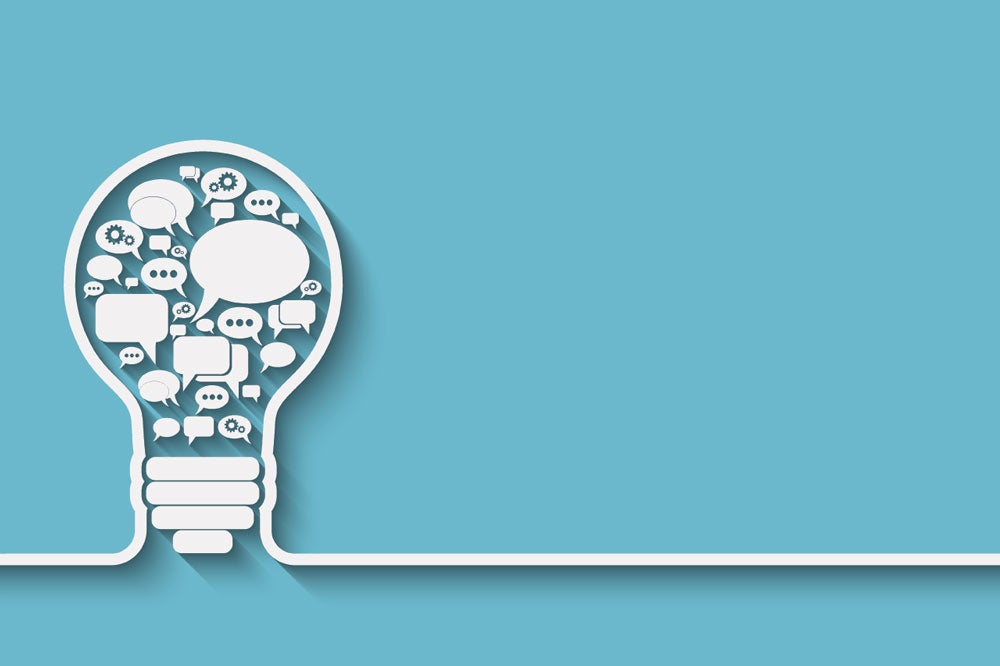 Turning Buzzwords Into Action
Advice on innovation, creativity and becoming a change agent.
Core competency
Take this offline
Innovation
Creativity
Change Agent
These are a few of the most annoying business buzzwords highlighted in Forbes. No doubt, you've heard (and used) your fair share of these gems during your career. These buzzwords are so overused they have lost their powerful meanings. Now seen as clichés, these terms are actually paramount to personal and organizational success. Let's take a deeper look.
Innovation
Innovation is one of the most overused words in business. It's also the most important tool for moving organizations forward. Rather than an end goal, innovation is the application of a new idea to satisfy a need. To be innovative, according to American physicist, engineer and entrepreneur Joseph F. Engelberger, requires three things: a recognized need, competent people with relevant technology and financial support.
Take Thomas Edison and the light bulb. The world needed a light source beyond the sun, moon and candles. Edison was competent and, thanks to many electricity-related discoveries in the 17th century and the work of Alessandro Volta and Humphrey Davy, Edison had the "technology" to execute his innovation. He also had money from the sale of his quadruplex telegraph. A recognized need – check. Competence and technology – check. Financial support – check. The light bulb was a true innovation.
How does one come up with an innovative idea in the first place? Stephen Shapiro, innovation evangelist at 24/7 Innovation, explains that innovation starts with an expansion of reality. He says, "The brain's reticular activating system is designed to filter out 99.99 percent of the stimuli out there. This prevents the brain from being overwhelmed by information. Unfortunately, as a result, you miss out on opportunities because you cannot even see they are there."
To create a more innovative work atmosphere, Shapiro advises professionals to push beyond business as usual. Attend conferences, read articles and books unrelated to day-to-day work, and surround yourself with people who have different interests and personalities.
Creativity
Creativity is defined as a phenomenon whereby something new and somehow valuable is formed. Although creativity can spark ideas that satisfy consumer needs, creativity differs from innovation in that it also ignites intangible items such as poetry, a painting or a musical composition.
To be creative, we have to balance the battle in the brain between logic and creativity. Logic says that if we jump off a bridge we may die. Creativity says if we whittle a block of wood into a sphere it will roll, thus becoming a wheel with which we can carry heavy loads. Both logic and creativity are incredibly important to our survival as a species. The trouble arises when logic overwhelms creativity.
Logic is frightened by "new" because "new" is risky. Author Seth Godin calls it the "lizard brain." Creativity occurs when we detach from fear. One way to do this is through noise. Researchers Ravi Mehta, Rui (Juliet) Zhu and Amar Cheema discovered that moderate noise increases creative activity because it drowns out the voice of logic. To learn more, check out their study "Is Noise Always Bad? Exploring the Effects of Ambient Noise on Creative Cognition."
Change Agent
People, products, processes, organizations, the economy – nothing and no one is immune to change. It's how one reacts to change that determines success. Good managers are good "change agents;" they help their organizations transform in an ever-changing marketplace. Here's how the good change agents do it:
Change agents have a clear vision of where the company is headed and can communicate it succinctly – as a common purpose – to all parties involved.

Change agents understand that change does not happen overnight. They set achievable deadlines and operate with an optimal blend of patience and persistence.

Change agents lead by example. They get in the trenches and understand how the change will affect all departments involved.

Change agents are trusted leaders. To be a change agent, one must first earn the respect of employees. After all, who wants to risk changing under the leadership of someone in whom they don't believe?
If you enjoyed this article, check out our blog post on innovation in manufacturing.