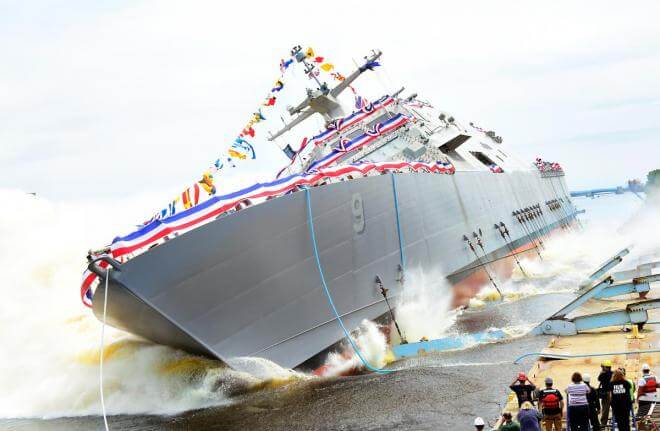 Lean Manufacturing Benefits Ship Builder
The automotive industry is the poster child for lean manufacturing. Across the board, auto manufacturers have found innovative ways to cut costs and increase productivity while maintaining quality. Other industries have been slower to adopt lean best practices and reap the rewards of lean manufacturing benefits. In fact, the manufacturing of warships has seen little innovation since WWII, even as the technology inside of these warships has accelerated. This is changing with the help of one Kettering University graduate.
Meet Jan Allman, Kettering University graduate.
Jan Allman took over as president, CEO and general manager of Marinette Marine Corp. in 2014 after nearly 30 years in the auto industry. From day one, Allman endeavored to help Marinette Marine evolve from a ship construction company to a ship manufacturing company that could manufacture multiple ships in a repeatable and continuously improving process.
Allman upgraded technology, consolidated and reorganized raw materials and assembly functions, and drafted new written guiding principles that emphasized continuous improvement. While some necessary changes were obvious, like updating technology, other changes came to light after Allman spoke to workers in the yard. (Allman walks Marinette Marine's 550,000-square-foot shipyard every day to meet with workers.) According to a company press release, Allman receives about 200 suggestions during small, quarterly meetings with nearly all 1,500 full-time employees at the yard.
One such change was that workers needed a smaller can of titanium grease to start their day. Before Allman, workers were given a full $20 can – most of which was thrown away at the end of the work day. Today, workers are given only what they need. "This saves the company hundreds of dollars a month," said Allman in an interview with Reuters. Additional Lean manufacturing benefits include higher rates of recycling, greater use of fixed assembly platforms, earlier installation of shipboard lighting rather than clamp-on lights, and more work assembling large modules on the ground, rather than on board the ships.
Marinette Marine's parent company, Fincantieri SpA recently invested $100 million to transform its shipyard into a state-of-the-art facility with double the indoor production space. Fincantieri's changes included paving the entire facility and doubling the indoor production space, including construction of a huge building where two of the 118-foot (36-meter) warships are now being assembled at once. It also streamlined the flow of raw materials and assembly functions to remove a full 8 miles from the production process of each ship.
About Kettering University's Lean Manufacturing courses online.
The only program of its kind in the United States, Kettering University's online Lean Manufacturing master's degree program teaches the modern manufacturing process knowledge and Lean Six Sigma skills needed to improve quality output, streamline processes and reduce waste. Learn more about our Lean Manufacturing courses now.